Our Fall Meals 2020 (Photos and Recipe Links)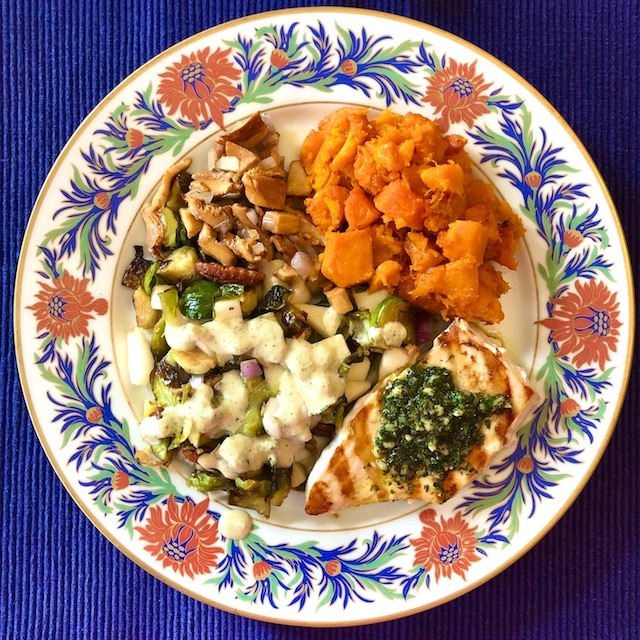 I hope this post will help you plan your holiday and winter meals.
You can see below lots of photos of what we've been eating this fall, with a list of the recipes represented in them. (If a corresponding recipe is not here, it means it was an experiment and it is still being fine tuned.) Since we usually have some version of a salmon salad each week, I've included photos of some of them below too.
One result from sheltering in place during the pandemic this year is that I've improved as a cook. I can now tackle with ease things that took a lot more concentration for me before. Also, James has learned how to make sourdough!
Note that above and the first couple photos below show our Thanksgiving meal.
You can also follow my food adventure and learning curve in real time on my new food-related Instagram account @whole30pescatarian. You might want to follow me there as well.
Also note that many of the plates and platters shown here I made myself.
Here are the links to recipes in the photos:
Spiralized Celeraic with Langostino, Tomatoes, Olives & Herbs
Roasted Cauliflower with Balsamic Raisins
Roasted Carrots with Tahini, Pistachios, and Mint
Spicy Shrimp on Mashed Potatoes
Roasted Eggplant with Harissa Tahini Sauce
Curried Butternut Squash Soup with Condiments
Herbed Lemon Pepper Butter for Swordfish
Ginger Kombucha Green Smoothie
Brussels Sprout Salad with Hemp Heart Dressing
Lime Crusted Fish with Olive Sauce
Bang Bang Shrimp with Mango Slaw
Baked Frittata with Spaghetti Squash, Bacon, and Mushrooms
Java Jacks Fabulous Seafood Chowder Recipe
Acorn Squash and Cabbage Salad with Curry Dressing
Asian Sesame Sauce for Spiralized Carrots
Vegan and Gluten-Free Breakfast Cookies
Please comment on the recipes if you make (or made) them!