Zucchini Tots (Recipe)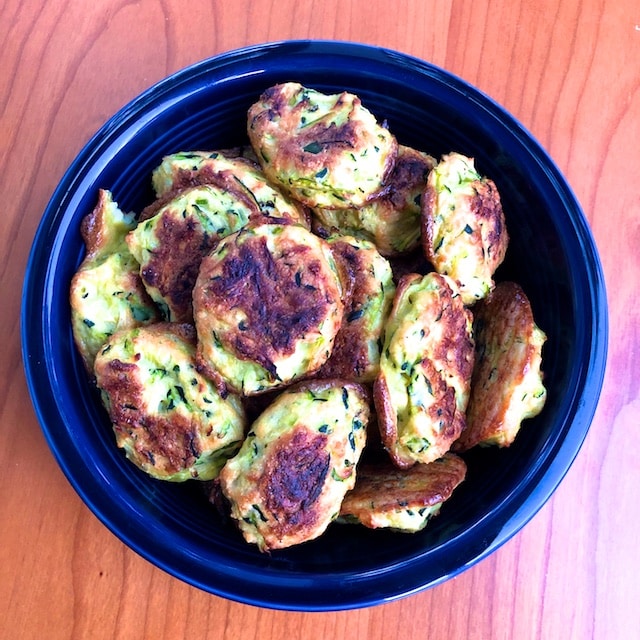 Got too many zucchinis and don't know what to do with them? This recipe is a great answer, especially since they are baked and not fried. They are a wonderful change from the usual zucchini delivery systems.
This recipe makes 24 to 30 tots.
I've served them as a dinner side, but also salted as an appetizer with warm marinara sauce.
They are great as finger food, even for picky eaters. With only one jalapeño, they are not spicy; add the other one or more hot sauce to spice them up if you want. (We like them bland but not too bland.)
Texturally, they are light and pillowy.
They are vegan and gluten free too!
Zucchini Tots Recipe
2 medium zucchini, grated
2 eggs
1/2 cup almond or coconut flour
2 Tbsp arrowroot flour
1 Tbsp nutritional yeast
1 tsp garlic powder
1 tsp onion powder
1 clove garlic, minced
1 to 2 jalapeño peppers, seeds removed and finely diced
salt & pepper, to taste
2-3 squirts Tabasco sauce
Preheat the oven to 400ºF.  Line a baking sheet with parchment paper and set aside.
Use a nut milk bag or cheesecloth (or even some paper towels or a dish towel) to squeeze all of the moisture out of the grated zucchini – put some muscle in, and squeeze out as much as you can!
Add the ingredients to a mixing bowl and stir to combine.  If the mixture seems too wet to form into a "tot" shape or won't hold together, add a tablespoon more of flour at a time until the moisture is all absorbed (this may be an issue if you don't get all of the water out of the zucchini, but adding flour is no big deal and won't dry them out – promise!)
Form into 1 to 1 ½ ″ long "tots" and place on the lined baking sheet. For each tot, gently squeeze any excess liquid out before putting on baking sheet. (Sometimes I squeeze a little more moisture out of them.)
Transfer to the oven and bake for 15 minutes, flip, then 15 more minutes.
Let the tots cool for a few minutes before serving with your dipping sauce of choice – we like ranch or marinara!