February Photos from our House and out our Windows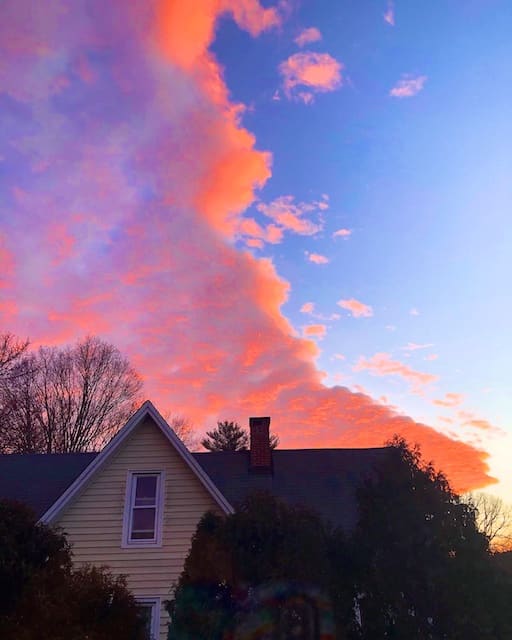 The photo above and the first one beneath were at the same moment, one above taken from the east end of my office/studio at sunrise, and the one below taken out of the west windows at approximately the same time. A remarkable cloud formation!
February has seen me not out walking as I'd rather be, but hunkered down inside, due to cold, snow, and the pandemic, only emerging on occasion to restock food. I've been working a lot, reading a lot, cooking a lot, and painting a lot. And looking out our windows on our own little slice of the world.
It is amazing what there is to see, just in the morning shadows in one's bedroom, the different moods of light in the landscape, the abstract shapes and value contrast created by falling snow or snow cover, or in chilly sunsets over the distant hills. I'm grateful for this home, for the harmony within it, and for our continuance of power.
I'm grateful that I am mindful of the details in my environment, even if I'm not going anywhere. There has been a hawk perching on a branch very near my office window, but I haven't been able to get his photo from there yet. I've learned not to approach to try, for he'll fly off, and I'd rather he stay in all his wild glory, and keep me company. Maybe I'll paint him instead.
Anyway, enjoy these photos of our little corner of the world this month, as narrow a view as it is. And for those of you new here, I do not use filters or photoshop; these colors are as they were, and were all taken with my iPhone X. Yes, there was some unusual light this month!