My Abstraction Powerpoint Available to Groups on Zoom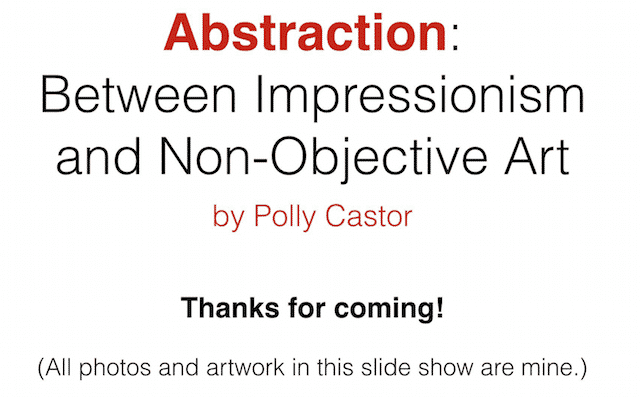 Are you looking for engaging, remote programming? Do you know of a group that is looking for a good zoom presentation that explains abstraction?
Last week I presented a talk on zoom to a well attended art association. My very visual, 300 slide, updated Powerpoint talk explains the full range of abstraction, and it can be made available for your group too. If your group would like to understand abstraction better, this talk is an approachable way to do that.
The audience was thrilled with this heartfelt offering, and we have welcomed many of them as new subscribers to this blog. One piped up unbidden after the talk to share to the group that a workshop I'd given, which she had participated in, was "life-changing." It is clear when one works from the heart, those with hearts hear.
I'm passionate about both abstraction and nurturing others, and love helping audiences embrace their own creative, deep authenticity in both their art and their lives. Let me know if I can be of service to your group in this way.