Recipe: Autumn Vegetable Soup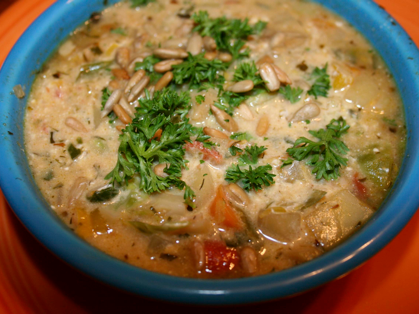 This is one of our favorite soups and I've made it every fall for nearly 20 years. It is from Mollie Katzen's wonderful book Still Life With Menu (page 76 – or in my copy, just turn to the most stained page.) I highly recommend it. It wouldn't be fall here without it.
This is the first dish I made that I liked Brussels sprouts in! (If you are incredulous about that, try it and see; I initially couldn't believe it either!) The ingredients are not only lovely and delicious, but good for you. Make it and start a tradition of your own.
Autumn Vegetable Soup
2 tablespoons of butter
1 1/2 cup chopped leeks
1 1/2 cup quartered Brussels sprouts
1 large carrot chopped
1 stalk of celery chopped
1 large potato chopped
1 cup peeled chopped acorn or butternut squash
3/4 teaspoon salt
freshly ground black pepper to taste
cayenne to taste (but not too much!)
2 large crushed garlic cloves
3 cups stock or water
1 cup spinach (Mollie uses Swiss chard or collard greens)
1 large firm tomato chopped
1 bell pepper chopped
1 1/2 teaspoons dried dill
1/2 teaspoon marjoram
1/2 teaspoon basil
2 teaspoons soy sauce
1 tablespoon lemon juice
1/2 cup of sour cream or yogurt (optional)
sunflower seeds (for garnish)
minced fresh parsley (for garnish)
In a large pot cook the first 11 ingredients over moderate heat (covered) for 10-15 minutes, stirring intermittently.

Add stock or water. Bring to boil, lower to a simmer. Cover and let cook slowly until everything is tender (20 minutes)

Add spinach (or greens) tomato chunks, and chopped bell pepper. Simmer 5 more minutes.

Add herbs, soy sauce, and lemon juice and continue to simmer another 5 minutes.

If you choose to add in the sour cream or yogurt, stir in just before serving. Garnish each bowl with sunflower seeds and parsley.
Yields 6 servings.
Enjoy!!