Crispy Herbed Potatoes (Recipe)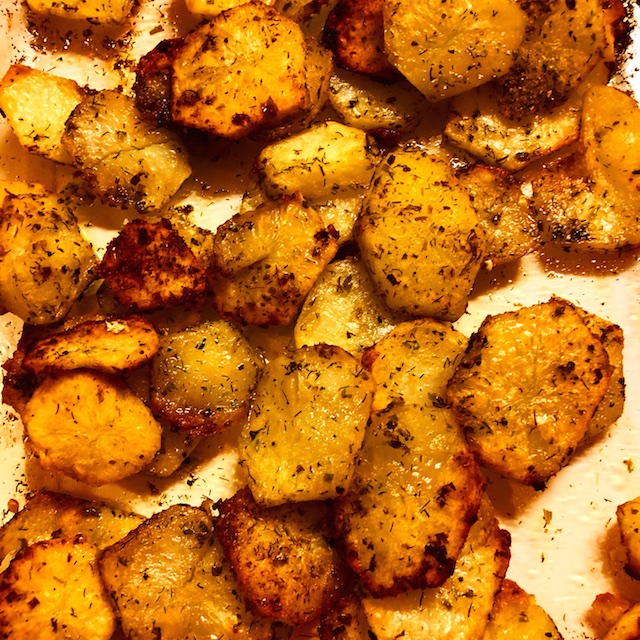 These are a special treat around here. I make them with whatever potatoes I have on hand. The first set shown in the photos was done by slicing larger potatoes. Below that, you can see a mix of baby potatoes that I peeled and halved, both Red Bliss ones and purple ones. They are good with whatever potato you use.
I try to make only what we'll eat when they are made, for they lose some crispness upon reheating. If you do have some leftover, we think the best way to eat them then is with a poached egg on top like in the last photo.
The ghee gives them a buttery taste, but doesn't burn. It's the key to why these are wonderful.
Crispy Herbed Potato Recipe
2 lbs potatoes
3 Tablespoons ghee, melted
2 teaspoon dried dill
1 teaspoon dried parsley
1 teaspoon garlic powder
1/2 teaspoon onion powder
1/2 teaspoon sea salt
1/4 teaspoon pepper
Preheat oven to 400ºF.
In a large pyrex or roasting pan, mix together the melted ghee with all the herbs and seasonings. Mix to cover the bottom of the pan.
Place potatoes face down in one single layer. Use a basting brush to coat the top sides of the potatoes with whatever ghee/herb mixture is between the potato slices. Top with a sprinkle of eas salt.
Bake 30 minutes and flip the potatoes for the last five minutes. Take them out when they are golden brown and crisp.
Yum! Enjoy!