Recipe: Parmesan Broiled Tilapia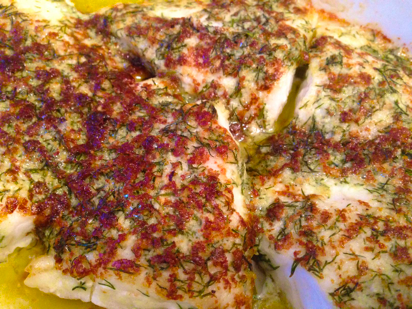 This is completely easy, very quick, and always moist and delicious. It is one of my recipes that people (my daughter in California, my sister in Ohio, etc) frequently tell me has become a staple in their homes too, after I shared it with them. I'm sorry I haven't gotten it onto the blog until now!
I do this recipe when I am short on time, or another part of the meal I am making is labor intensive. This is good enough for company and easy enough for a weeknight when you only have 15 minutes. We had it tonight with our favorite Watercress, Pear and Walnut Salad which is also easy and scrumptious.
Turn the broiler on high and put the oven rack in to top slot.
4 tilapia filets, thawed if frozen (and not from Asia)
2 Tablespoons organic butter, melted
1 1/2 Tablespoons of any good mayonnaise (try Trader Joe's Wasabi Mayo too)
1/4 cup Parmesan cheese
1 Tablespoon fresh lemon juice
a handful of chopped fresh dill
pepper to taste
Mix together all the ingredients except the tilapia.
Place tilapia in a pyrex or ceramic ovenproof dish. Broil for 3 minutes.
Remove from the oven, and turn over the tilapia to the other side. Spread the sauce mixture over the uncooked side of the tilapia.
Broil an additional 3-10 minutes, depending on the thickness of your tilapia, until golden brown.
Enjoy!