Save Me the Plums (Book Review with Recipes)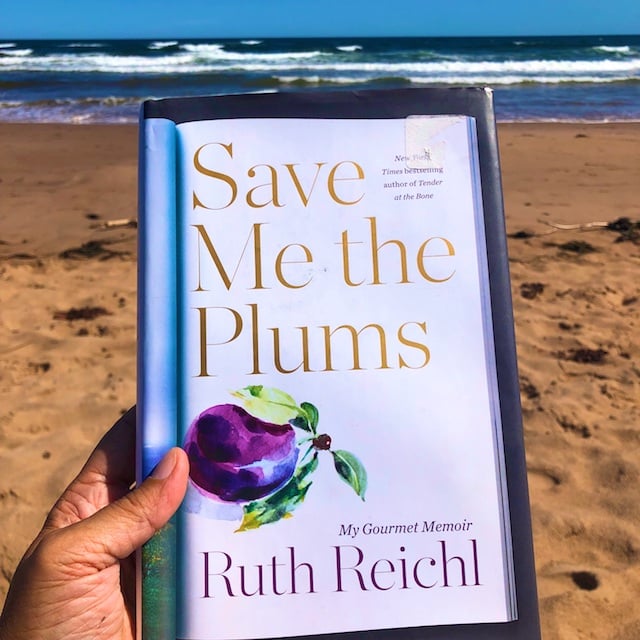 Wondering what I read that day lounging on the Cavendish Beach on Prince Edward's Island? I read this memoir loaned me by a fellow blog reader of yours. It is written by Ruth Reichl, a foodie author I've read before, and this time it was a memoir of her ten years working as editor-in-chief at Gourmet magazine.
She was unexpectedly snatched up out of her restaurant reviewing job at the New York Times for this dream job, and what initially enthused her about it was that she could finally eat at home with her family, and cook a bit, instead of always eating out. But what unraveled from there was a job she loved, one that needed her, and where she could be fresh and innovative, give the magazine back its cutting edge, become very well compensated, and morph into a celebrity.
This is that story, but it is also the tale of a foodie response to 9/11, her son's cookbook that he wrote for an English class, falling in love with an expensive dress in Paris, and the surprise but expeditious demise of a legendary magazine. On top of all that, there are recipes sprinkled throughout the book, a couple of which are shown below.
I enjoyed reading Save Me The Plums, and I hear the audio book (read by the author) is even better. If you are interested in the food industry, or in publishing, or in memoirs about working lives rather then personal ones, you might want to pick this one up. It reads more like a novel than a memoir. I give it four stars.
Here is my favorite quote from the book, "…one of life's great secrets: Luxury is best appreciated in small portions. When it becomes routine it loses its allure."