2019 Reading Challenge Complete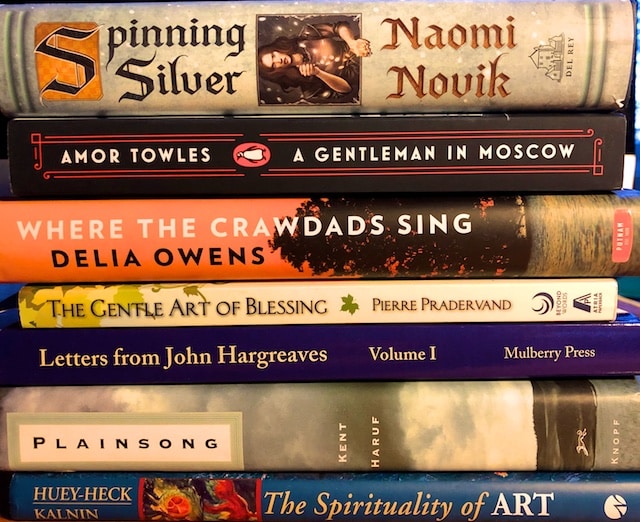 I did pretty well on my Reading Challenge for 2019. I'm still finishing up on a few, but am on track, having read 62 books books, (including audio books but not counting podcasts and newspapers), so even with the ones I am finishing, I exceeded my 52 book a year goal. Because of what we listened to on our long car trip north, I read three series instead of one, so that helped my numbers. You can see below what I read with links to their corresponding blogs, or contrariwise, comments as to why there were not blogs about them.
Please comment below regarding how you did on your version of this challenge. Lots of you respond directly to me, but I want to encourage you to respond on the blog, so everyone gets to enjoy your feedback. Also please tell me what you'd like to see on next year's reading challenge. I'll be posting our new challenge for next year on this blog on New Year's Eve. And how can I do to encourage you to do it?
My favorites you ask?
Best three Fiction:
The Overstory
A Gentleman in Moscow
Where the Crawdads Sing
Best three Non-Fiction:
The Gentle Art of Blessing
Gertrude Bell: Queen of the Desert, Shaper of Nations
Letters from John Hargreaves
So here it is:
Reading Challenge for 2019
Self Help / Self Care / Inspiration
The Gentle Art of Blessing (blog here)
The Path Mare Clear (blog here)
Letters from John Hargreaves I (Unfinished: fabulous but slow.)
Keep Going (blog here)
Professional Development / Pursuing Interests
Abstract Painting  (wonderful, but unblogged)
Journeys to Abstraction (wonderful but unfinished)
Inventing Abstraction 1910-1935 (blog here)
Creative Authenticity (wonderful but unfinished)
Linchpin (blog here)
War of Art (blog here)
Do the Work (blog here)
The Spirituality of Art (unfinished)
Wolfpack (blog here)
Book Group / or Misc
12 Rules for Life (blog here)
Magpie Murders (blog here)
Daring Greatly (blog here)
Tattoos on the Heart (blog here)
Shipwrecked (blog here)
A Gentleman in Moscow (blog here)
Born a Crime (blog here)
The Book of Joy (blog here)
The Immortalists (not a fan)
White Houses (not a fan)
A Book Series (or two)
Ramses I

Ramses II

Ramses III

Ramses IV
Ramses V (series blog here)
Terrier (Beka Cooper #1)
Bloodhound (Beka Cooper #2)
Mastiff (Beka Cooper #3) (series blog here)
Alanna #1
In the Hand of the Goddess #2
Woman Who Rides Like a Man #3
Lionness Rampant #4 (series blog here)
Older book (prior to 2000)
The Moonflower Vine (blog here)
Daughter of Fortune (only 3 stars)
New book (2018 or 2019)
City of Girls (blog here)
The Overstory (blog here)
Nine Perfect Strangers (not a fan)
The Dearly Beloved (blog here)
Audio Books
Podcast Series
The Bible Speaks to You
Artists Helping Artists
On Being
Learn to Paint Podcast
Books you already own but haven't read yet
What's So Amazing About Grace? (blog here)
Old in Art School (unfinished)
Spinning Silver (unfinished)
Composition in Outdoor Painting (unfinished)
Nonfiction, Essay, or Memoir
Fiction (substancial)
Small Great Things (blog here)
Marriage of Opposites (blog here)
Paint the Bird (blog here)
Plainsong (only 3 stars)
Fiction (breezy)
The Other Daughter (pleasant but twaddle)
The Vanderbeekers at 141st Street (blog here)
The Corinthian (regency romance fluff)
Milady (only three stars)
City Baker's Guide to Country Living (blog here)
Newspaper regularly
Christian Science Monitor
New York Times
Your turn! How did you do, and what do you want the book challenge for next year to look like? I'm looking for category suggestions, and what you want more or less of. Let me know! This was so much fun, and very enriching. Thanks for playing along!