The Path Made Clear (Book Review with Quotes)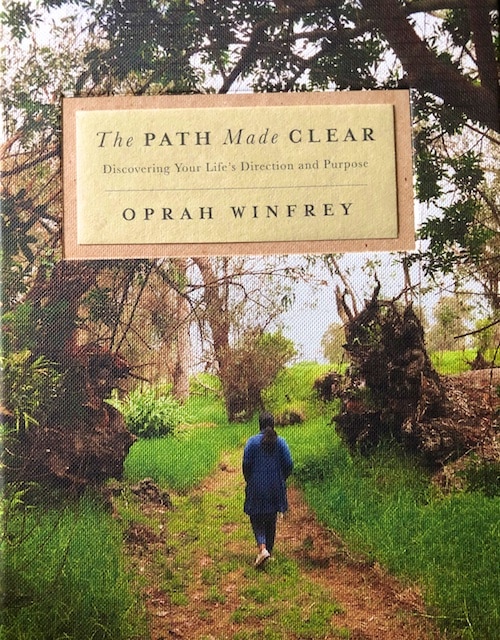 The Path Made Clear is a lovely gift book by Oprah Winfrey. It comprises snips of her interviews to serve as inspiration of the topic of finding one's life direction and purpose. I read it because I loved the former one from a couple years ago The Wisdom of Sundays about life-changing wisdom discussed in her Super Soul Sundays; you can read my blog about that here. Together they would make an amazing gift.
I liked the former one a little better, probably because of the difference in subject matter, so I give this one 4 stars. Maybe I already knew most of this? But if you know someone struggling to find direction in life, this might be a good gift for them.
Here are some of my favorite quotes and ideas from the book:
"Luck means preparation meeting the moment of opportunity." Oprah Winfrey
"As author and spiritual trailblazer Gary Zukav so brilliantly taught me, when you align your personality with your purpose, no one can touch you." Oprah Winfrey
"Life is about growth and change, and when you are no longer doing either…pay attention to what makes you feel energized, connected , and stimulated. Follow your intuition, do what you love, and you will do more than succeed." Oprah Winfrey
"Just beneath emptiness is the vast expanse of their spirit." D. Shefali Tsabary
"I think nothing is worse than betraying yourself. That's the worse, most ultimate betrayal is the betrayal to yourself." Oprah Winfrey
What to do when problems show up? "My first reaction is to relax and lean away. I lean away from the noise my mind is making… don't let it pull you in and get involved… let the noise pass through, and it does." Michael Singer
"You cannot defeat someone who knows who they truly are." Oprah Winfrey
"I get off my game when I start playing for others rather than playing for myself."LeBron James
"The important thing to realize is that what happens to you is much less important than how you respond to what happens. That determines the way forward in your life." Eckhart Tolle
"For a marriage to be successful, you've got to have someone who wants you to grow into who you really are." Richard Rohr
"Every single moment is an opportunity to be of service to another human being." Oprah Winfrey
"When it comes down to it, life can be measured in exchanges of energy. Positive or negative. What is the energy you choose to bring to the world? Positive exchanges multiply and grow. That's why giving on any level feels so great. You are creating and actual force for good." Oprah Winfrey
What if, right now, you began to structure your decisions based on how you want to be remembered, rather than on what you believe you still need to accomplish?… Ask yourself, What do I want my legacy to be?" Oprah Winfrey
"If you are in a place where you are more powerful than the people around you, listen as much as you talk. And if you're less powerful, talk as much as you listen." Gloria Steinem
"Addiction. Self-sabotage. Procrastination. Laziness. Rage. Chronic fatigue. And depression. All are ways to withhold our full participation in the program of life we are offered." Charles Eisenstein
"When you let go of trying to get more of what you don't really need, it frees up oceans of energy that was caught up in that chase to now turn and pay attention to what you already have." Lynne Twist
"What you appreciate, appreciates." Lynne Twist
"A major lesson I've learned in my adult life, and particularly since I left the White House: that people are not inferior." Jimmy Carter
"I have come to believe that one of the reasons I've enjoyed financial success is because my focus has never been on money." Oprah Winfrey
"I was with a Buddhist teacher a number of years ago. And he said, 'Let me give you a secret. If you were to meditate for twenty years, this is where you'd finally get to: Just be yourself. Be all of you." Jack Canfield
"To the extent that you start to define yourself through traditional measures of success– to the extent that that's your source of self-esteem, you are destined to be unhappy because you cannot control it." Jeff Weiner
"All spiritual knowledge is not cognition. It's recognition. You're reknowing what you deeply already knew. What you deeply intuited, suspected, desired, hoped for, that's the soul. The discovery of yourself and the discovery God will eventually be parallel movements." Richard Rohr
My belief is that the whole purpose of life is to gain mastery, mastery of our emotions, our finances, our relationships, our consciousness through meditation, things like that." Jack Canfield
"It doesn't matter if your glass is half-full or half-empty if there is a pitcher of water right next to you." Shawn Achor
"It takes courage to believe the best is yet to come." Robin Roberts
"The more the loving parts of your personality are the ones you're cultivating, the more opportunity you have. The more fear is controlling you, the more limitation you have." Gary Zukav
"How am I making things more difficult than they need to be?" Oprah Winfrey
"Nourish what makes you feel connected, confident, contented. Opportunity will rise to meet you." Oprah Winfrey
Check out below for a few other quotes in some photos I took to show you the format of the book. Enjoy!