The Wisdom of Sundays (Book Review)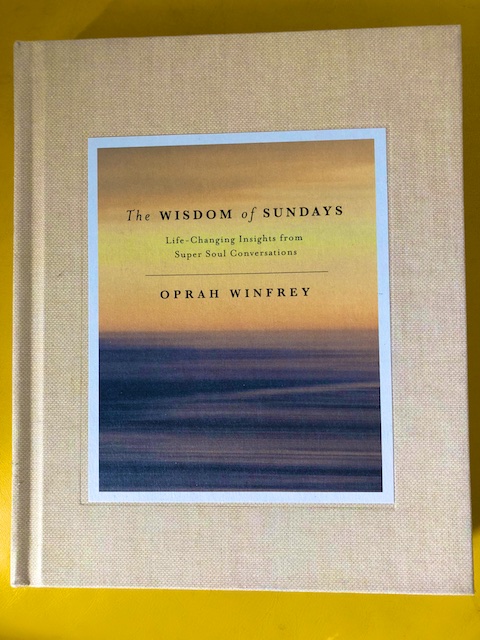 This five star book is one of my favorite books this year. It is the best bits and nuggets from Oprah's Super Soul Sunday program. And it is beautifully laid out with photographs, making the whole experience of reading it meandering and thoughtful. 
Contributors include Gary Zukav,Eckhart Tolle, Sue Mink Kidd, Deepak Chopra, Jack Canfield, Ram Dass, Elizabeth Lesser, Thomas Moore, Elizabeth Gilbert, John Gray, Joel Osteen, Tony Robbins, Iyanla Vanzant, David Brooks, Brene Brown, Jon Kabat-Zinn, Arianna Huffington, Richard Rohr, Anne Lamont, Thich Nhat Hanh, Caroline Myss, Jimmy Carter, Marianne Williamson, Wayne Dyer, Mark Nepo, Sarah Ban Breathnach, Gretchen Rubin, Paulo Coelho, Gloria Steinem,  Malala Yousafzai, Maya Angelou, and many others.
They discus topics like: awakening, intention, mindfulness, spiritual GPS, ego, forgiveness, broken open, grace, gratitude, fulfillment, love, and connection.
Here are a few bits from it that I enjoyed:
"I think that vulnerability is the cornerstone of confidence." Oprah
"If God gave you the vision, God will give you the provision." Iyanla Vanzant
"We sin when we have our loves out of order." Augustine
"You can't get to courage without walking through vulnerability." Brene Brown
"It helps to say our intention out loud." Sue Monk Kidd
"If life was a book and I am the author, how would I want this story to go? Now I try to live my life knowing that if you can see it and you can feel it and you believe it, then it is completely possible." Amy Purdy
"Am I living the life that I can admire?" Diana Nyad
"Silence is the one spiritual discipline that is found in all of the world religions at the higher levels. Some degrees of silence. And that would be my practice. Finding the inner silence and then honoring the silence that's really around everything." Richard Rohr
"Making art is no different than prayer" Rain Wilson
"Art is prayer, creativity is an expression of prayer." Oprah
"Every choice we make is either going to enhance the spirit or drain the spirit." Oprah
"You know you're doing the right thing… when you don't have to compromise who you are." Caroline Myss
There are tons more here, but that gives you the flavor. I highly recommend reading and pondering this sweet but powerful volume! It would be a great gift idea too.