Sweet Potato and Apple Casserole (No Added Sugar Recipe)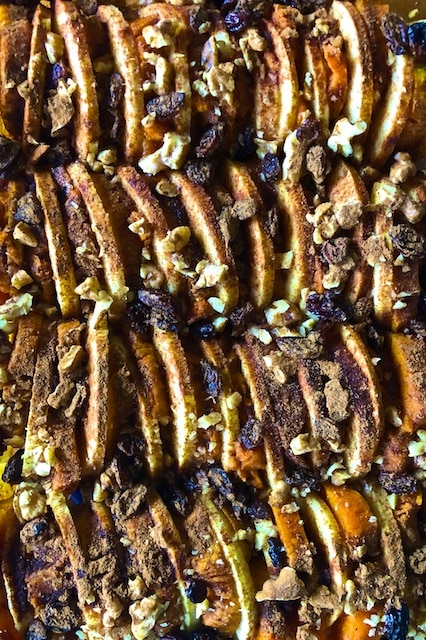 This is a very welcome but healthy side dish, that is great for either company or everyday, and would be terrific to bring to a potluck or holiday dinner.
This is so heart-warming and delicious, you realize there is no need for added sugar.
To make it vegan just use a butter substitute, for Whole30 use ghee, instead of butter.
We have an apple peeler that makes cutting the apples into smiles a breeze. It is an appliance we happen to love. If you want one you can get it here. Otherwise, you can simply peel, cut, and slice the apples by hand.
To make this come together easily, I recommend baking the sweet potatoes in advance. Then you are ready for assembly when you want to put it together and bake the casserole.
This recipe makes six servings, but it would be easy to double it in a bigger pan to serve a crowd.
Reheated leftovers of this are just as good!
Sweet Potato and Apple Casserole Recipe
4 large sweet potatoes
4 large baking apples, cut into 1/4″ slices
1/2 cup walnuts, chopped
1/3 cup raisins or dried cranberries
1 teaspoon (or more) cinnamon
sprinkling of grated fresh nutmeg
1 Tablespoon butter, ghee, or vegan substitute
To pre-bake your sweet potatoes, preheat the oven to 425ºF. Pierce each sweet potato several times with a fork. Then place the sweet potatoes directly on the oven rack, with a cookie sheet on the rack beneath to catch the drips. Bake for 45 minutes. Allow the sweet potatoes to cool, before removing the skin (which is very easy to do at this stage), and starting assembly.
When ready to make the casserole, pre-heat the oven to 350ºF.  Coat a 13″x9″ baking dish with a bit of butter, ghee, or vegan butter substitute.
Cut the sweet potato into 1/2″ coins, and if they are especially large, cut those into half. Arrange the sweet potato and apple slices in a single layer in the dish, alternating and overlapping the slices. Sprinkle with the walnuts, dried fruit, cinnamon and nutmeg. Dot it with bits of butter, ghee, or vegan substitute as shown in the photo.
Cover with foil and bake for 30 minutes. Remove the foil and bake for 15 minutes more. Serve immediately while hot.
Enjoy!