Recipe: Tabbouleh with Shrimp, Feta, Dill and Parsley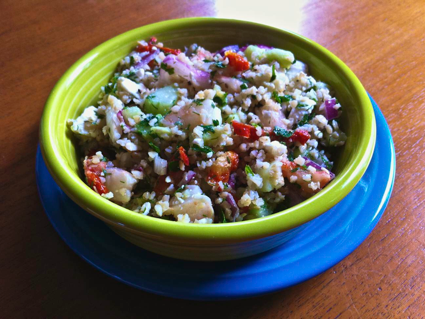 Here's a different than usual version of tabbouleh that I like better than the traditional one. It is wonderful to make ahead for quick lunches or dinners; the flavors are best if they mellow a bit in the refrigerator anyway. And with the shrimp in it, it is a complete meal in a bowl! This recipe is from the wonderful cookbook that I reviewed (click here). If you're busy, give this recipe a try for satisfying, delicious nutrition on the go. This makes four meal-sized servings.
Bulgur Tabbouleh
1 cup quick-cooking bulgur wheat
1 cup boiling water
1/2 pound precooked cocktail shrimp
2 large cucumbers (peeled, halved lengthwise, de-seeded, and diced)
1 small red onion, diced
1 cup sun-dried tomatoes, chopped
1/2 cup of Feta (we sometimes use a cup)
1/3 cup packed parsley leaves, chopped
1/4 cup lemon juice
2 tablespoons fresh dill, chopped, any woody stems removed
2 tablespoons olive oil
1/2 teaspoon salt
1/2 teaspoon freshly ground black pepper
Place bulgur in small bowl, stir in 1 cup of boiling water. Cover and set aside for 30 minutes, until water is absorbed and bulgur is tender.
Thaw shrimp if necessary and chop them into quarters.
Fluff the bulgur with a fork and add it to the shrimp. Stir in cucumber, red onion, sun dried tomatoes, feta, parsley, lemon juice, dill, olive oil, salt, and pepper.
Enjoy!