Coastal Biking Adventure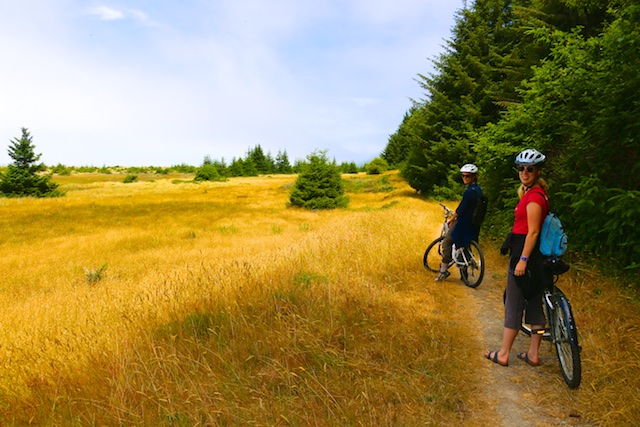 This was quite the biking adventure. Misrepresented to us as an old logging road, this California Coastal Bike Trail was not at all what we bargained for, but we still had fun. My kids said it was harder than mountain biking. We dealt with a very narrow trail, complete not only with roots and rocks, but many downed trees which we went over or under, through five foot high grasses tickling us from every side, squishy mud, and branches in the face. The photos shown below were the only areas open enough to get those shots!
We finally gave up after several miles when faced with the six foot drop shown in the photos. We then chose instead to bivouac west across the meadow to the Pacific ocean. And what an expanse it was! Having a ten mile slice of beach to ourselves, was worth the effort and then some! 
This beach was pristine and I loved the wide misty expanse of it. I was fascinated watching the pelicans in flight; they look like they have pterodactyl ancestors. We played in this sanctuary and reveled in it for a few hours before heading back the way we came, feeling very hard core and satisfied.