Fresh Pea Soup with Mint (Recipe)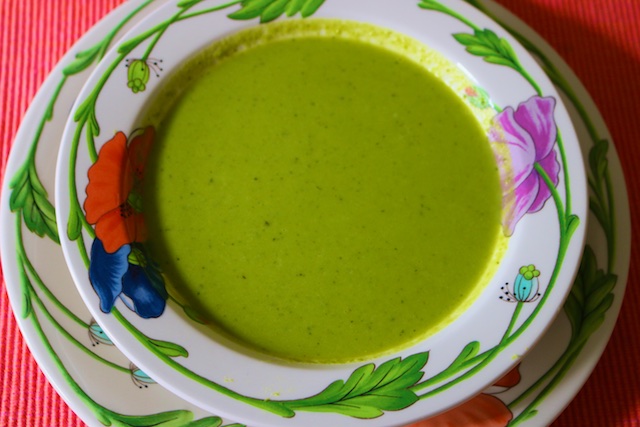 This soup is very easy and quick, but also delicious. It is perfect fare for cool spring days like we are having now. I make it with frozen peas; I get a huge 5 lb bag of them at Costco. And creme fraiche is a marvelous ingredient, pictured below in case you are not familiar with it. I made a double recipe of this recently for my local interfaith Clergy Association and they all loved it. Everyone had seconds.
Recipe for Fresh Pea Soup with Mint
2 tablespoons of butter
1 yellow onion, chopped
2 leeks, chopped
4 cups stock (vegetable or chicken)
5 cups frozen peas (or 2 10oz packages)
2/3 cup (packed tightly) fresh mint leaves, chopped
2 teaspoons salt
1/2 teaspoon freshly ground black pepper
1/2 cup creme fraiche
In a large saucepan, melt the butter and add the leeks and onion, cooking ten minutes on medium heat until soft. Add the stock and raise the heat bringing it to a boil. Add the frozen peas and cook only 3 minutes.
Off the heat, add the mint, salt, and pepper. Puree the soup in a blender in batches until smooth, pouring in a large bowl until complete. Whisk in the creme fraiche.
Serve hot. Yum!