Book Review: The Greater Journey: Americans in Paris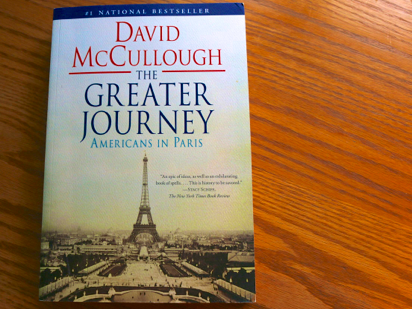 While somewhat slow going and a considerable undertaking in its detailed 456 pages, I really enjoyed this book – much more than I thought I would at the beginning. Initially, it read a bit like a list of famous people all traipsing through common ground, but then, imperceptibly, your fascination about each of them grows, until you care about their outcomes, all of which are remarkable. I give this book four stars; David McCullough has once again woven a web of history that conveys a depth of understanding few others can equal.
The cast of characters is too large enumerate here, but they include artists, scientists and authors such as Samuel B. Morse, Elizabeth Blackwell, George Healy, Oliver Wendell Holmes, James Fenimore Cooper, Henry James, Mary Cassatt, and John Singer Sargent. I learned about some I was previously unfamiliar with: an early champion of education for women, Emma Willard, a painter of native Americans, George Catlin, and a famous sculptor of large statuary, Augustus Saint-Gaudens (whose museum I now want to visit in New Hampshire).
I loved the scene of the Iowa Indians presenting a tomahawk to the last king of France, and found Harriet Beecher Stowe's impressions intriguing. There was an incredible story of an event in the US capitol that forced Senator Charles Sumner to flee to Paris, which I had not heard of before. We meet Elihu B. Washburne, a steadfastly honorable person who served as the American Minister to France during the Franco-Prussian War and the grueling occupation of Paris (when people argued over rats to eat). His heartfelt daily diary is the best first hand account that survives of that difficult period.
The sweeping history here of American characters during three French empires is impeccably researched and is the main point, but I loved the emphasis on art as well. I liked hearing how Whistler learned that line is more important than color, and that black is the most important color because it is the "great harmonizer." Then later, Renoir explains that since one of them had no black and used blue instead, Impressionism was born. And John Singer Sargent advised, "If you begin with the middle tone and work up from it towards the darks – so that you deal last with your highest lights and darks – you avoid false accents."
I should also mention that this book has color images in it of the work and people it discusses, which enhances the experience. I also found myself googling further images to get a greater sense of the other work of the artists discussed. That a book such as this can compel a reader to look further to learn and see more is a great compliment to the exceptional prowess of this author.
This book has such great educational value, I'd recommend it to high school homeschoolers since it gives such a solid sense of the 19th century and so many major players in it. Additionally, there is nothing inappropriate in it to avoid for younger readers or as a family read-aloud.
If you enjoy history, art, or Paris, you would enjoy this book if you can stick with it. Whoever you are, reading this book is a project that you'll be glad to have done. It makes me wonder, am I really deeply living and seizing the day in my own time?