Last Black and White Abstract Paintings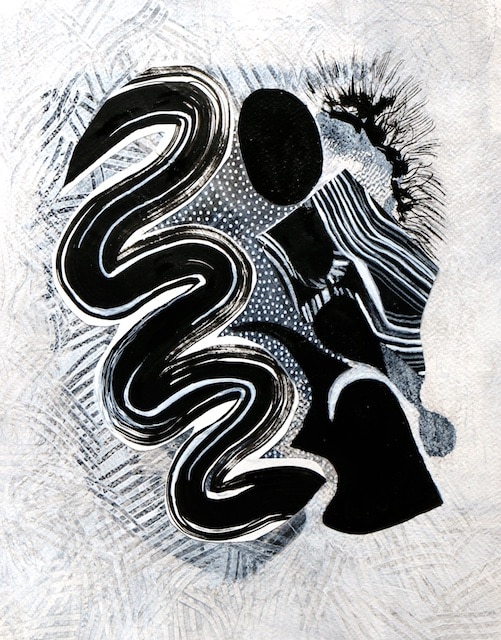 These six works culminate my six week challenge to myself to explore black and white painting. It was valuable to hone my visual dialogue in this way, removing color as a factor that is so important to me. Also, as an outcome, I'll be including some of the black and white collages and paintings in my big one woman show that will be up in October. Furthermore, the high school abstract art class I teach will be exploring black and white approaches at the beginning of this term, and I told them I wouldn't ask them to do anything I was unwilling to do myself.
The paintings in this post utilize painting, hand made collage papers, veiling, stamping, stenciling, scraping between layers, pattern, and line. I limited my compositional approach to that of a central dark form. If I assigned myself more black and white paintings to do in the future, it would be natural to explore other design motifs in this same repetitive black and white way. Working is a series is very pleasurable and informative.
All these pieces diverged from the central black (rather rectangular) form they started with, and they all naturally moved further out to encompass more of the picture plane each time than I thought they would. I started with larger paper here (11'x14″) thinking that I'd have a lot of room for more air space, but something in me filled that space every time. Each time too, I felt a need to anchor the floating element– even in some subtle way – to the edge of the paper. None of them felt intuitively complete to me unless I did that.
The character of most of my lines are assertive anyway, and then the high contrast aspect between black and white emphasizes this this tendency. I only used black and white paint here, mixing no grays, so any grayish elements come from the layering of white over black. In the last piece below, layering white paint over black sharpie yields a purplish cast to the result.
This was an interesting project and worth the time I put into it. That said, however, I can't wait to pour myself into color! It reminds me of abstaining from sugar for a long time, and then that first homemade donut never tasted so good.