Recipe: Coconut Curry Shrimp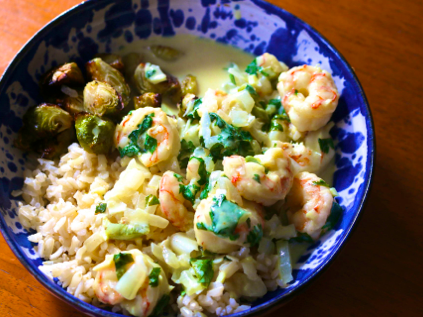 This is both delicious and easy. It is wonderfully warm but not very spicy. We serve it with organic brown rice and my roasted Brussels sprouts. It is fun to eat as a whole meal-in-a-bowl out of my handmade pottery.
 
Notes:
1. Keep your peanut oil in the refrigerator; there it will not go rancid and will be good for a long time.
2. I love this recipe even though I don't generally like coconut. So try it even if you are like me and would never order coconut ice cream, or always pass on that coconut cake other people rave about.
3. I recommend the frozen Argentinean shrimp from Trader Joe's. We like their texture better.
 Coconut Curry Shrimp recipe
1 tablespoon of peanut oil
1/2 a large sweet onion
2 cloves garlic, peeled and minced
1 jalapeño, seeds removed, diced
1 teaspoon curry powder
1 pound raw shrimp, thawed, peeled, and cleaned
1 can (14oz) coconut milk
3 limes, juiced
1 tablespoon, unsweetened shredded coconut
salt and pepper
A big handful of chopped fresh cilantro
 
Put the oil, onion and garlic in a large pan and cook on medium for a few minutes. Add the curry powder and jalapeño and cook for another few minutes. Put in the shrimp and coconut milk, and stir to combine. Cook for 10 minutes, and then add in the lime juice and shredded coconut. Season with salt and pepper to taste. When ready to serve, mix in the cilantro.
 
Serve over rice and veggies as desired. Enjoy!