Pot-Roasted Celeriac (Celery Root) with Horseradish Sauce (Recipe)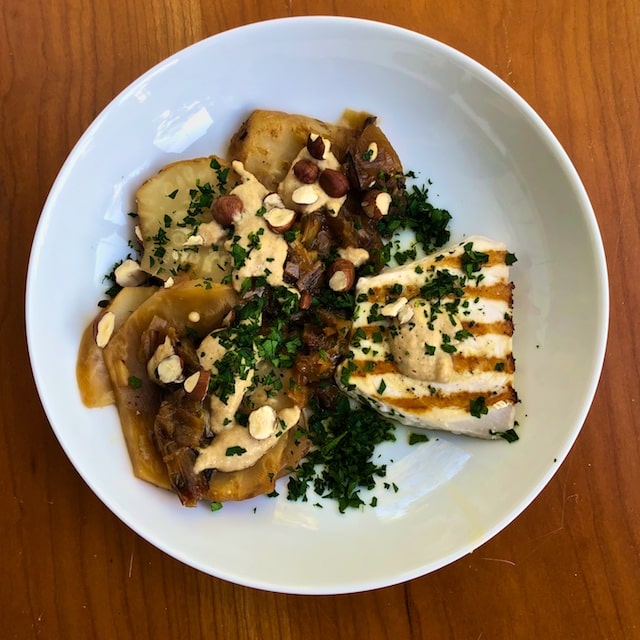 I can take no credit for this recipe. The pure genius of this is all Laura Wright's in her fabulous vegan cookbook First Mess (shown below). It can be a vegan main dish, or you can serve it with a side of the protein of your choice; here I paired it with a small piece of grilled swordfish, sharing some of the horseradish sauce.
These vegetables are sweet, cooked in cider, paired with a very savory sauce, topped with some hazelnuts for texture, and some parsley for a dash of color. Not as pretty as some dishes, it tastes way better than most. A little groaning with delight while eating it may seem to be in order.
When buying prepared horseradish, purchase the one with fewest ingredients, in particular omitting corn starch and sugar.
This sumptuous dish takes some time, with a whole hour in the oven, but is actually really easy. Allow yourself a couple hours, half of which will be idle time, and you'll be good. The photo below shows the pot just before going into the oven. This recipe serves 4.
Pot-roasted Celeriac (Celery Root) with Horseradish Sauce Recipe
1 tablespoon extra virgin olive oil
1 medium yellow onion, sliced
2 leeks, white parts only, sliced
2 teaspoons fresh thyme leaves
1 apple, cored, peeled, and thinly sliced
3.5 pounds celery root, peeled and cut in half
salt and pepper
2-3 cups apple cider
1 teaspoon tamari (or soy sauce)
1 teaspoon apple cider vinegar
(1/4 cup parsley, chopped for garnish)
(1/4 cup toasted hazelnuts, chopped for garnish)
For Horseradish Sauce
1/4 cup cashew butter
1/4 cup water
2 Tablespoons prepared horseradish
2 teaspoons Dijon mustard
salt and pepper
Preheat the over to 350ºF.
Heat the olive oil over medium heat in a large, heavy bottomed, oven proof pot (I use a Dutch Oven). Sauté the onions, leeks, thyme, and apples for about six minutes until soft. Then add the celery root, and season liberally with salt and pepper. Pour in two cups of apple cider into the pot. The liquid should go half-way up the celery roots. Add more apple cider if necessary. Cover with a tight fitting lid and roast in the oven for 1 hour, lightly stirring it halfway through. The celery roots should be tender enough to cut easily with a knife.
Remove the pot from the oven, and place the celery root in a separate bowl while you simmer the rest of the liquid and apples and veggies over medium heat. If you don't have much liquid left, add a little more apple cider, and let it cook down (for 10-20 minutes), while you make the horseradish sauce.
For the sauce, whisk together (or use a small food processor) the cashew butter, water, horseradish, Dijon mustard, salt and pepper. Mix until smooth.
Cut the roasted celery root into slices. Serve hot with the slices nestled in with the apple cider reduction and vegetables, topped with the horseradish sauce, parsley, hazelnuts, and a little salt and pepper.
Oh my! Yum! Enjoy!