Spring Vegetable Pie (Recipe)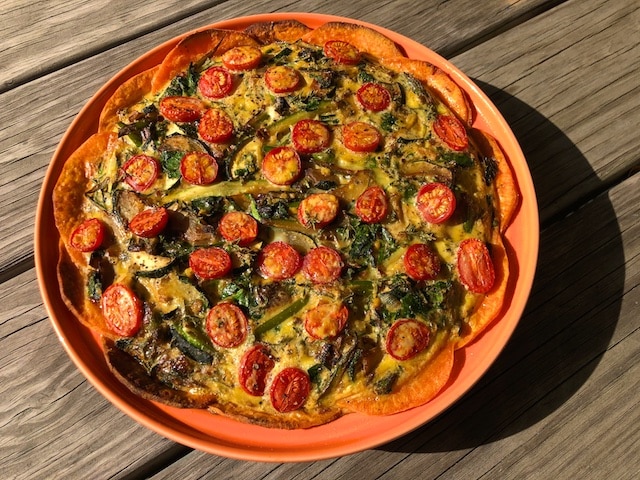 This recipe is so delicious the two of us unexpectedly ate the whole thing at one sitting. It is a little more involved than some of my recipes, perfect for doing with a partner, to make it go faster and feel fun. James and I made it together for Sunday brunch after our zoom church meeting.
This is a no grain, no dairy vegetarian recipe. It is surprisingly satisfying and loaded with spring vegetable goodness. The crust is made of sweet potatoes. We have a mandoline which makes getting thin slices of sweet potato easy, but you can do it too just with a knife and a little patience.
Spring Vegetable Pie Recipe
3 Tablespoons ghee (or clarified butter) (divided)
1 large sweet potato, thinly sliced
sea salt and freshly ground black pepper
2 leeks, white part only, chopped
1/2 pound asparagus, sliced into 2″ ribbons with a paring knife
1 small zucchini, thinly sliced
3 garlic cloves, pressed
1 cup packed fresh spinach, chopped
1/2 cup cherry tomatoes , halved
6 large eggs
2 Tablespoons nutritional yeast
2 teaspoons fresh thyme leaves (or 1 teaspoon dried)
Maldon salt, for garnish (optional)
Preheat the oven to 375ºF.
Prepare all the vegetables. (James did the sweet potato part, while I did the rest, and this got it in the oven twice as fast.)
Heat one Tablespoon of ghee in a large skillet over medium-low heat. Add the sweet potato slices and season with salt and pepper. Cook, stirring frequently, until softened, but still undercooked, about 10 minutes. Remove from skillet and set aside.
Place one Tablespoon of ghee in a 9-inch pie dish and brush it around to coat, so the pie won't stick. Arrange the sweet potato slices in the pie dish, slightly overlapping, around the bottom and up the sides. Set aside.
In the same skillet, put the last Tablespoon of ghee to cook over medium heat. Add the leeks and saute until soft and translucent, about five minutes. Add the asparagus, zucchini, and garlic and cook, stirring for another 3 or 4 minutes. Stir in the spinach and continue to stir until it is wilted and incorporated.
Transfer the vegetable mixture to the pie dish, spreading it out evenly. Top with the cherry tomatoes, spaced out, and with cut side up.
In a larger bowl than you think you need, beat the eggs with the nutritional yeast, careful not to have any clumps. Add the thyme leaves, and 1/4 teaspoon each of sea salt and freshly ground pepper.
Bake until the top is set with no liquid egg remaining, about 30 to 40 minutes. Let cool a bit before slicing, and some flaky Maldon salt.
Yum! Enjoy!