Recipe: Roasted Brussels Sprouts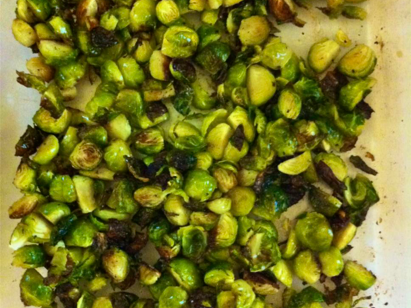 Recently I searched my blog to share this recipe and found to my surprise I had not featured it. So this post is to fix that heinous oversight! We love this and make it often; it is especially fun this time of year when you can get Brussels sprouts on the stalk. When I started making this from a Barefoot Contessa recipe it was a revelation those of us who did not consider ourselves Brussels sprouts eaters. This is so delicious, we make them for dubious company too, who to their own chagrin gobble them up and ask for the recipe.
Roasted Brussels Sprouts Recipe
1 1/2 pounds Brussels Sprouts
3 tablespoons good olive oil
3/4 teaspoon salt
1/2 teaspoon freshly ground pepper
Preheat oven to 400˚F.
Cut off ends of Brussels sprouts and remove any yellow leaves. If they are large, sometimes I cut them in quarters, if they are smaller, not. Mix them in a Pyrex baking dish with the olive oil, salt and pepper. Roast them for 35 to 40 minutes until they are crisp on the outside and tender on the inside. Shake the pan from time to time, to brown the Brussels sprouts evenly. Sprinkle more salt (they are good salty like fries…) and serve.
Couldn't be easier. Enjoy!