Updated Seafood Pie with Celeriac Mash (Recipe)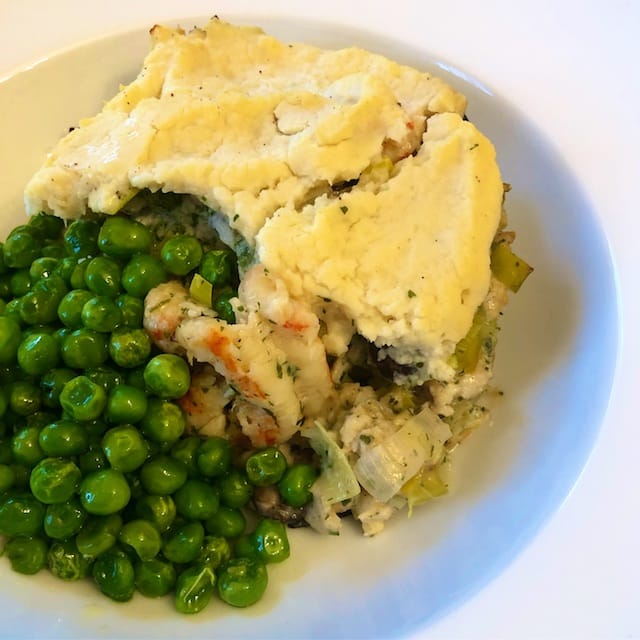 When one of you pointed out to me that my original seafood pie with celeriac mash recipe was missing most of the instructions, I remembered how wonderful this dish was, and wanted to make it again. The original recipe was from 2013, and when we switched over blog platforms from iWeb (early days) to WordPress (current), somehow the complete blog did not get copied in full. Anyway, I made this dish again, the way I would do it now, and wow this is so very good! I decided to reblog it again instead of updating the previous, long ago post.
The former recipe had less leeks, regular mushrooms, butter and milk. It was good, but I think this updated version is better. I also have made this with skinless salmon instead of the tilapia and it works fine too.
There are several steps to this recipe, but it is not hard. You will be so glad you've given it a try. This is comfort food at its best. Protein and veggie packed, it translates into pure soul-warming deliciousness. When you've made this once, you'll want to make it again, and the second time it will seem easier, for you will be buoyed by anticipation, knowing the results are worth it.
It makes six servings and is very appreciated on a rotation as leftovers. Simply warm up the leftovers in the oven at 350ºF for 30 minutes.
I like this best with peas since it gives it that shepherd's pie feel, but it was also good with Roasted Brussels sprouts or green beans.
Seafood Pie with Celeriac Mash Recipe
1 small celeriac, peeled and chopped
(a little milk & ghee for the mash)
salt and pepper
1 tablespoon olive oil
1 medium onion, peeled and chopped
4 leeks, white parts only, chopped
8 oz shitake mushrooms, sliced
4 tilapia filets
1 lb large raw shrimp, peeled and de-veined
1 1/3 cup almond milk
1 bay leaf
1 tablespoon ghee
2 tablespoons of arrowroot
2 tablespoons chopped fresh parsley
1 tablespoon chopped fresh dill
(& finishing salt at the table)
Preheat oven to 350ºF.
First make the celeriac mash, by peeling it and cutting it into chunks, and then boiling them until tender.
While the celeriac is boiling, heat 1 Tablespoon of ghee in a large sauté pan, and sweat the onion and leeks for a few minutes until soft. Remove them to a bowl. Then in the same pan, cook the mushrooms for a few minutes until golden. Add them to the bowl with the onions and leeks.
Place the tilapia and shrimp in the pan and cover it with the almond milk and bay leaf. Poach for no longer than 4 minutes. I remove the shrimp as soon as they are tight and set them aside with the leeks and mushrooms, so as not to over cook them. (The fish will take slightly longer.) Take off the stove and pour off some of the milk into a small bowl to make a roux with, after making the celeriac mash.
Put the boiled celeriac in a blender with a splash of almond milk, a knob of ghee, and some salt and pepper. Whirl into a purée.
In a small pan, melt 1 Tablespoon of ghee on low heat and gently stir in the arrowroot until you have a roux. Slowly pour in the reserved milk, and mix well until smooth.
In the large pan with the fish, remove the bay leaf, and add back in the shrimp, leeks, onions, mushrooms. Then add in the roux and the herbs. Stir it all well until everything is incorporated.
Pour the mixture into a baking dish (I use a square 10″x10″ as shown below) and cover it with the celeriac mash spread out on top. Bake right way for 10 minutes until uniformly hot. (Note if you are warming it up from cold it will take 30 minutes, but you could make this ahead for company and do that.)
Serve immediately, preferably with something green and hot.
Wow. Yum! Enjoy!