Recipe: Crustless Seafood Pie with Celeriac Mash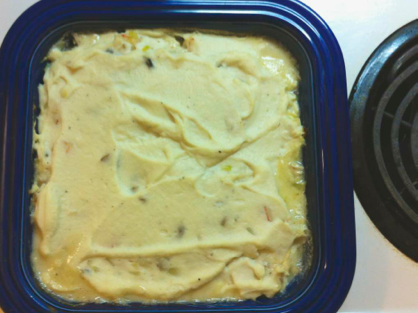 This is a nurturing, homey, fabulously delicious dish for a winter dinner.  It is worth the effort of the multi-step process.  We serve it with buttered peas or roasted root vegetables, as you can see below. The three of us get two dinners out of this recipe, and it is just as delicious warmed up.  Give it a try; if you've never made anything like this before, it will be a whole new revelation of possibilities. And if you've never cooked with celeriac before, it is readily available in supermarkets and produce shops, and has a mild, comforting taste similar here to mashed potatoes, but lighter and not at all starchy.

1 small celeriac
(a little milk & butter for the mash)
salt and pepper
1 tablespoon olive oil
1 medium onion, chopped
2 leeks, white parts only, chopped
8 oz mushrooms, sliced
3 tilapia filets
1 lb large raw shrimp, peeled and de-veined
1 1/3 cup milk
1 bay leaf
1 tablespoon butter
2 tablespoons of arrowroot
2 tablespoons chopped fresh parsley
1 tablespoon chopped fresh dill
(& salt at the table)
Begin by making the celeriac mash. Peel the celeriac and cut it into chunks. Boil the chunks until tender when poked with a knife. Transfer them to a blender, with butter, a bit of milk, and salt and pepper. Whiz to a puree and set aside.