Raspberry Streusel Muffins (Recipe)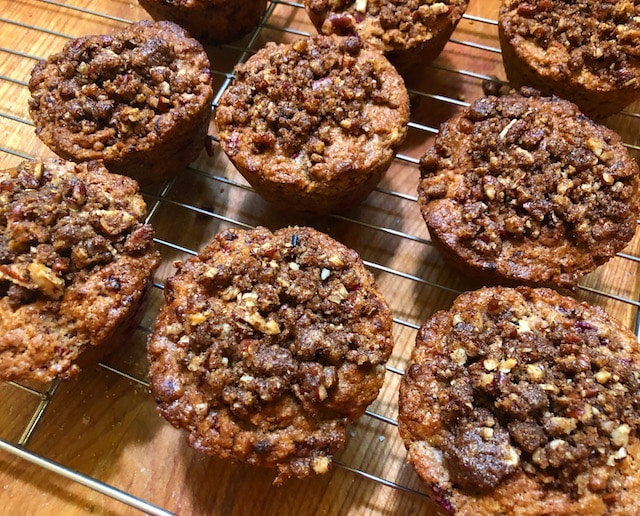 We have a bumper crop of raspberries from our yard, and aside from gobbling them up fresh at every opportunity, and freezing some for the winter, this is a great way to enjoy their flavor.
These muffins are delicious and a bit sweet. They taste fabulous right out of the oven with a little butter melting on them, or warmed up another day for breakfast.
The recipe, the way I wrote it below, asks for the "flour of your choice." We use 1/2 sprouted spelt flour and 1/2 all purpose here, but organic white whole wheat flour would be good too. Some of you will have gluten-free flours you'd prefer.
You could also swap out fruit, even though the raspberries are wonderful in this. You may have strawberries, blueberries, peaches or plums you'd rather put in instead.
If you are vegan, just swap out the butter and milk for vegan options.
If you don't have applesauce on hand, 1/2 an apple, peeled and cored, and whirled in a food processor works fine.
This makes 9 muffins, which is nice, because it is not too many.
Raspberry Streusel Muffin Recipe
Topping:
¼ cup pecan halves, chopped
2½ tablespoons brown sugar
½ teaspoon ground cinnamon
1½ teaspoons (1/2 TBSP) butter, melted
Muffins:
½ teaspoon apple cider vinegar
1 teaspoon ground flax seed
½ cup milk of your choice
1½ cups flour of your choice
⅔ cup brown sugar
1½ teaspoons baking powder
¼ teaspoon baking soda
1 teaspoon ground cinnamon
¼ teaspoon fine sea salt
¼ cup ghee (or butter or oil), melted
1½ tablespoons unsweetened apple sauce
2 teaspoons vanilla extract
1 teaspoon lemon zest
1½ cups raspberries (or other fruit)
Preheat the oven to 400°F.
Lightly grease 9 cups of a standard size muffin tin. It sometimes comes out enough for 10.
Make the topping. In a small bowl, whisk together the chopped pecans, brown sugar, and cinnamon. Add the melted butter to the bowl and mix until you have a sandy texture.
Make the muffins. In a small bowl, combine the apple cider vinegar, ground flax seed, and milk. Give it a quick stir and let the mixture sit for 5 minutes or so.
In a large bowl, whisk together the flour, sugar, baking powder, baking soda, cinnamon, and salt. In a medium bowl, whisk together the milk and flax seed mixture, ghee (or butter or oil), applesauce, vanilla, and lemon zest. Once combined, add the liquid mixture to the large bowl with the dry ingredients. Add the raspberries (or other fruit) as well. Gently stir the batter together until JUST combined.
Portion the batter out into the 9 greased muffin cups. Sprinkle the crumble topping evenly over the top of each muffin. Fill the remaining 3 empty muffin cups up to the halfway point with water. This step just ensures even weight and moisture distribution!
Bake for 20-25 minutes or until a toothpick poked into the center of one comes out clean.
Let the muffins cool for five minutes before removing from the pan.
Enjoy!