Acorn Squash and Cabbage Salad with Curry Dressing (Recipe)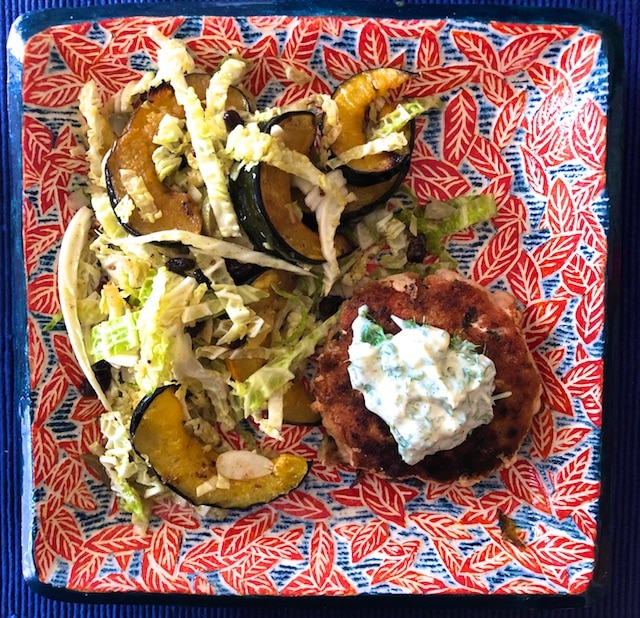 Looking to get out of a rut and try something different? Give this fresh, interesting winter salad a try.
This salad recipe was adapted from one by Ilene Rosin. It was surprisingly a smash hit of a salad. I was dubious about roasting the acorn squash with the skin on and eating it that way, but it not only holds together more beautifully, it adds to the salad's very textural elements in a nice way.
I served this with the last of our Homemade Salmon Burgers from last week, on the new salad plates I made my husband for Christmas, and it was a delicious combination.
Note: the roasting time on the acorn squash depends on the freshness and ripeness of your squash. You'll just need to keep an eye on it periodically. If timing is important, like making it for company, you can do most of the roasting step prior, and just finish it off before serving.
This serves 4.
Acorn Squash and Cabbage Salad with Curry Dressing Recipe
2  acorn squash, seeds scooped out, cut into smiles 1 inch thick
1/2 a Savoy cabbage, core removed, thinly sliced into ribbons
2 Tablespoons avocado oil
sea salt and freshly ground black pepper
1/4 cup pitted green olives,halved and thinly sliced
1/2 cup raisins
1/4 cup slivered toasted almonds
For the Curry Dressing:
1 teaspoon cumin seeds
1/2 teaspoon coriander
1/2 teaspoon fennel seeds
1/2 teaspoon ground ginger
1/4 teaspoon ground turmeric
1 teaspoon dijon mustard
2 1/2 Tablespoons of cider vinegar
1/2 cup avocado oil
sea salt and freshly grated black pepper
Preheat the oven to 400ºF.
On a sheet pan, toss the squash slices with the oil and season with salt and pepper. Spread the slices out and roast for 20-40 minutes, turning them half way through, until they are nicely browning on both sides and obviously tender, but not falling apart.
While the squash is cooking make the dressing. Toast the cumin, coriander, and fennel seeds in a small, dry skillet over medium heat, stirring until fragrant. Place them in a small food processor and add the rest of the dressing ingredients besides the oil. Whiz the food processor until well mixed and the seed are ground. Gradually add the oil while the food pressor is going, until well blended. Season to taste with salt and pepper.
Combine cabbage leaves, olives, raisins, and almonds in a large bowl and toss with half the dressing. Add the squash and toss with the remaining dressing, taking care not to break the squash slices. Adjust seasoning if necessary and serve.
Enjoy!