Movie Review: On the Other End of the Line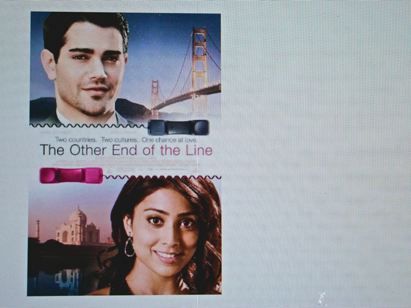 This movie is about a customer service representative for Citibank stationed in India, trained to impersonate being an American complete with a false name and city of origin.
This was particularly interesting to me after spending chunks of two days last week getting computer help with an email problem (that you might have noticed…) One help desk person said they were stationed in Boise, Idaho, and the other in Bend, Oregon. After seeing this movie, I totally wonder about that!
Anyway, this Indian girl posing as an American helps a guy over the phone who asks to meet her in person, as he'll be visiting her supposed town (San Francisco.) She impetuously agrees and jumps on a plane. As per usual in this formulaic fare, they get together in the end after false starts and interference, and one might speculate whether or not they can really make a relationship work over such cultural divides. We are glad to see them reject the "done thing" that isn't resonating with their respective hearts, but one also knows their road together in the future is not simple either. One thing is sure: these types of international movie themes show how much smaller our world is becoming!
In many ways this is your stereotypical chick flick with characters that run only skin deep. The part of this movie that hauls this film up from three stars to four is the role of the girl's father. With much difficulty he chooses to trust his daughter more than rigid conformance to traditions and expectations. He delivers a speech defending her choices – regardless of the fact that they appall and bewilder him – and I applaud him for that!