Lemon Dijon Halibut (Recipe)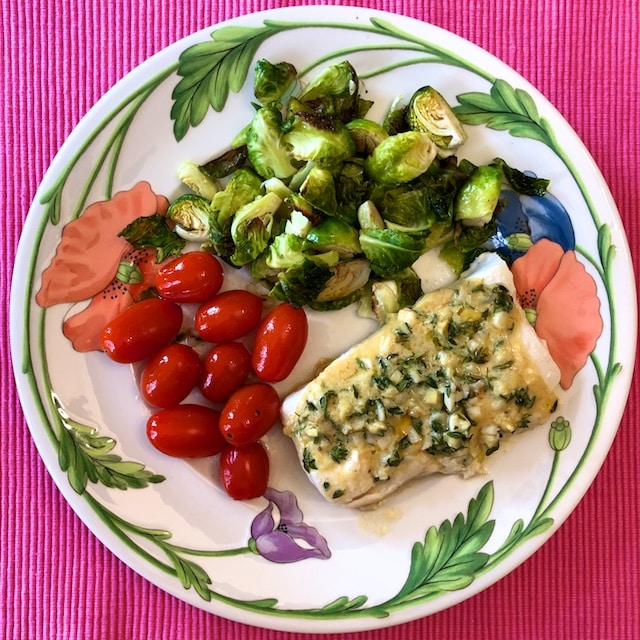 This is a totally delicious, easy way to prepare halibut, and is more foolproof and moist than grilling or sautéing it. I'm happy to have experimented with this and now have it in my repertoire!
The tomatoes are optional, but are a nice addition. They do not get mushy or lose their shape, but get nice and warm, and taste great in the sauce for a complimentary little side dish.
The whole dish doesn't look that different from going into the oven, to coming out of it, as I show you in the photos below. I served it here (above) with Roasted Brussels Sprouts, which is a good match, since it both goes well it, and cooks at the same temperature.
Try this quick, good-enough-for-company meal; you'll be glad you did. I made the serving size here for only us two, but it is simple enough to multiply the recipe if you are cooking for more.
Lemon Dijon Halibut Recipe
1 Tablespoon melted ghee (or clarified butter)
2 garlic cloves
1 Tablespoon lemon juice
1 Tablespoon Dijon mustard
2 teaspoons fresh thyme leaves
1/4 teaspoon salt
1/4 teaspoon freshly ground pepper
two halibut filets
2 handfuls of organic grape tomatoes
Preheat the oven to 400ºF
Combine the ghee, garlic, lemon juice, thyme, salt and pepper. (I do this in the little pan I used to melt the ghee.)
Pour over the fillets in a small baking pan and allow to marinate for 10-45 minutes. (This is not an exact science; I'm usually impatient, or sometimes get pre-occupied with something else.)
Add the tomatoes around the edges, and bake for 8-10 minutes, until fish is cooked through, flaky and tender.
Serve immediately, and prepare to ooooh and ahhhh…