Vegan Alfredo Recipe (Cashew Sauce with Spaghetti Squash, Broccoli, and Shrimp)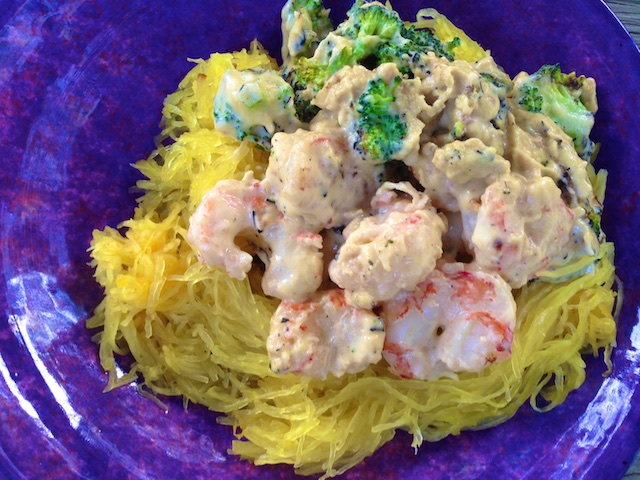 This vegan alfredo sauce will have converts on all sides of the fence. That's why I used it in this pescatarian dish, but without the shrimp it can also satisfy any of your vegetarian or vegan friends. Dairy free and using only healthy fats, this is a completely guilt-free indulgence. Give it a try! This is so good, you may start buying raw cashews in bulk (shown below) like we do.
Vegan Alfredo (Cashew Sauce) Recipe
(this will make more than you need so save some for later)
12 oz of cashews
1 can full fat coconut milk
1 cup vegetable stock
1 lemon, juiced
plenty of salt
2 garlic cloves
a few dashes of cayenne
some freshly grated nutmeg
Let all this soak in your blender for a half hour (while the spaghetti squash is cooking) then blend it up for about five minutes. Yum!
Serve with:
1 spaghetti squash
1 bunch of broccoli tops
coconut oil, ghee, or butter
1 pound raw shrimp, peeled and deveined
red pepper flakes
4 garlic cloves
1 Tablespoon of freshly squeezed lemon juice
salt and pepper to taste
Preheat the oven to 375ºF.
Cut the spaghetti squash in half lengthwise, and scoop out the seeds. Roast it flesh side down for 45 minutes. (Time everything else to be done when the spaghetti squash is, for it does not hold it's heat very well.) Take the squash out of oven and shred it with a fork, adding salt and/or pepper as desired.
In a big skillet, while the squash is cooking and the cashew mixture is soaking, sauté a bunch of broccoli in coconut oil (or ghee) over high heat so it will sear.
(Then blend the cashew sauce.)
Then turn down the heat , add butter (or ghee) and sauté the raw shrimp, garlic, several shakes of red pepper, and a tablespoon of lemon. Cook for a minute or two, then add as much of the cashew "alfredo" sauce as you want, heating it until the shrimp is cooked and the sauce is hot. (Shrimp cook quickly so be careful not to overcook them. They are done when they just start to tightly clench into fists.)
Serve the broccoli/shrimp/sauce mixture over the spaghetti squash, and enjoy immediately.