Thwarting Squirrels; Saving Peaches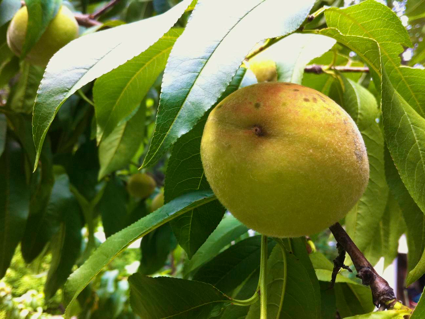 One of the great things about my job is having no commute; I often work at the picnic table in the summer. There is one squirrel in particular, that makes impertinent eye contact with me often. Sassy. While I'm in full view watching him, he jauntily climbs up the peach tree, chooses one immature beauty not ready to be plucked, snatches it up in his mouth, and takes his jolly time bringing it back down and "stalking" off with it over the lawn. The uncanny thing about it is that he performs the whole maneuver while overtly watching me watch him the whole time. This happened once a day for many days.
Then a new pattern got added to the mix. When I wasn't at the table on any given day for this performance, I would find that he'd left a calling card for me AT MY PLACE at the picnic table. Cheeky flirt! It is not incidental that that is the exact spot at which he would like to eat them and no other. His method here is that he peels the skin and leaves it in scraps about and then leaves the gnawed on pit…
We had a hail storm on Monday, which downed some peaches, so his consumption has increased. This morning, he left me no less than FIVE at my place – two in the chair and three strewn around on the table at my place. You can view the crime scene in the photos below. I decided he has taken advantage long enough and it is time to protect my interests, especially considering there are still some peaches on the ground for him. Not to mention soon they might actually start tasting good!
Today, my husband, the yard-master of note on our premises, is out of town, so we could not press him into action on this. My daughter and I, however, took the matter into our own hands and marched into the hardware store, determined to teach that impudent squirrel some manners. We came out with a metal pipe and were very pleased with our solution, which you can view in the photo below.
The squirrel, for his part, watched the proceedings from the bushes. We have not seen him try out our masterpiece – that would make an interesting video! Meanwhile, the action we took today does not prohibit him taking a flying leap from the roof of the house onto the tree – which is far but I wouldn't put it past him for trying it– but at least he definitely cannot manage that while maintaining flagrant and flawless eye contact!!