Recipe: Chachouka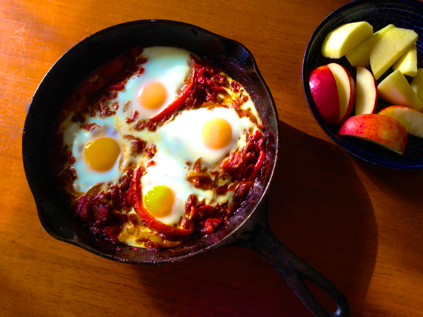 This North African dish is delicious and worth buying the expensive saffron for. It has a lot of flavor without reading as spicy. We may even like it better than our Baked Eggs Over Power Greens!
Chachouka Recipe
3 tablespoons of olive oil
1 teaspoon cumin seeds
1 large onion, thinly sliced
2 garlic cloves, crushed
1 red bell pepper, thinly sliced
1 yellow pepper, thinly sliced
1/2 teaspoon hot smoked paprika
a pinch of saffron strands
1 (14 oz) can chopped tomatoes
sea salt and freshly ground pepper
4 large eggs
Preheat oven to 350˚F.
Heat the oil in a large, ovenproof, frying pan over medium heat. Add the cumin seeds and let them fry gently for a couple of minutes. Add the onion and cook for 8-10 minutes, until soft and golden.
Add the garlic and peppers and cook over lower heat for 20 minutes, stirring often, until soft. Add paprika and saffron, then the tomatoes and some salt and pepper. Cook, stirring occasionally for 10 to 15 more minutes.
Make four hollows in the surface and break an egg into each one. Sprinkle with salt and pepper. Bake for approximately 12 minutes, until the white is set and the yolk is still a tad runny.
Serve immediately. When I eat it, I chop up my egg so it is all good and mixed in as you can see in the bottom photo. Enjoy!