Recipe: Grilled Swordfish Skewers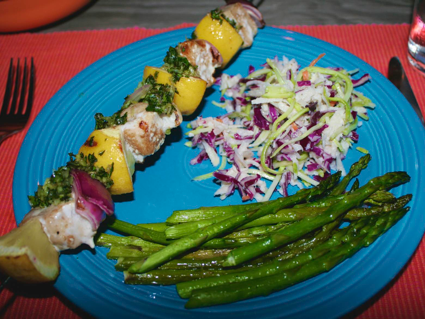 It's not often we eat at the top of the food chain but tonight we splurged and treated ourselves to swordfish. We bought it fresh off the boat and it was delicious! These were not hard to make, and was fun to do; we will be making this again!
This recipe came from a grocery store magazine I've never bought before called Healthy Kitchens, which is a lovely magazine without advertisements and is shown below.
Grilled Swordfish Skewers
1 1/2 skinless swordfish steak cut into 1 1/4 inch cubes
4 teaspoons of ground coriander
salt and pepper
3 or 4 lemons, halved and them each half quartered
1 large red onion, cut into one inch squares
2 tablespoons olive oil
2 tablespoons fresh basil
1 1/2 teaspoons minced shallot
Pat dry the fish with paper towels and rub with the coriander, then season with salt and pepper. Thread the fish, lemon and onions evenly onto long metal skewers, in an alternating pattern, making sure the juicy side of the lemon is facing the swordfish.
Turn on gas grill burners to high, cover, and heat the grill until hot, about 15 minutes. Turn all burners to medium high.
Clean and oil the cooking grate. Brush the skewers lightly with olive oil and place them on the grill. Cook, covered, turning as needed, until the fish is opaque and flakes apart when gently prodded with the paring knife, 5 to 8 minutes.
Transfer the skewers to a platter, tent loosely with aluminum foil, and let rest for five minutes. Combine the oil, basil, and shallot in a bowl, and brush this mixture on the skewers before serving.
The recipe said you can eat the grilled lemons whole which several of us did. Give this a try; you'll be glad you did!