The Secret Ingredient for Great Salmon Eggs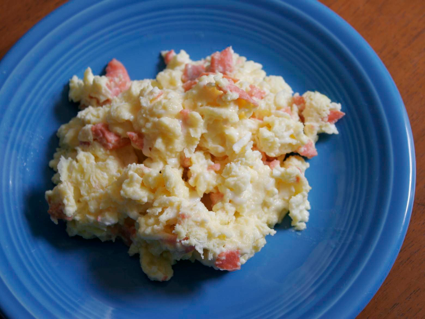 A few years ago I had a "eureka" moment while sitting in Sarabeth's Restaurant in New York City. I was thoroughly enjoying an incredible egg creation made with smoked salmon, when I realized the secret ingredient in a chat with my waiter. Always liking an egg and smoked salmon combination, I had never before gotten a glimpse of how to make it taste so divine. This, I would have to try at home! I did, and we've been making it ever since.
The surprise secret ingredient? Cream cheese. This is so easy – and so good – you won't believe it.
Also, make sure your smoked salmon is wild. I get mine at either Trader Joe's or (less expensively) in bulk at Costco (sold in separate sealed packages so you don't need to worry about using it too slowly).
Completely luxurious, this is an amazing way to start the day. I usually make four eggs at a time; above is an individual serving, which is half of this recipe.
Smoked Salmon Scrambled Eggs
a tad of butter to coat the bottom of the pan
4 eggs, scrambled
1/4 cup wild smoked salmon cut in bits (I use kitchen scissors)
2 tablespoons (or more?) of cream cheese
On medium heat, melt the butter in the pan to coat the bottom. (I find a smaller pan works better than a larger one for melting the cream cheese.) Put all the ingredients in the pan simultaneously and cook, stirring on consistently, until they are the desired consistency. Oh my gosh is that good!
See the stages in my photos below. Don't worry if the cream cheese is initially lumpy. It does melt.
Sometimes we add scallions or chives…
Enjoy!