Book Review: Flight Behavior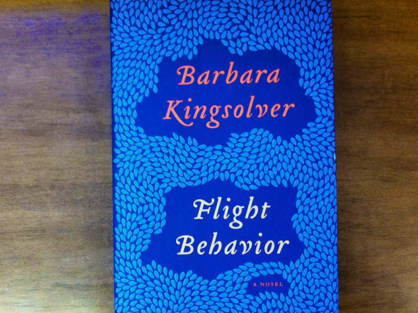 I have loved some other books by this author (particularly Prodigal Summer) and was really looking forward to the release of this book. I wasn't disappointed. It is the best thing I've read in a long time and I heartily give it five stars!
Set on a farm in Appalachia, it is astute fiction that highlights the real plight of climate change. It also works well simply as a novel, with Dellarobia as one of my favorite fictional characters to come along in a long time; the trajectory of her development is worth the read alone.
But this book also underscores the very dire situation we are in as average temperatures rise. Dellarobia comes to realize that when her kids have a temperature 4 degrees higher than normal she'd be rushing them into the ER, and that this akin to the situation in which the earth finds itself, and it is no less alarming. She then comes to understand that as the polar ice caps melt, what used to serve to reflect the hot rays of the sun back out into space will no longer be present, so all that heat will be increasingly absorbed, rising temperatures on the earth more.
I loved the scene with the scientist facing off the newscaster toward the end. No, it is not popular to look at this information head on, but it is important to. This novel is an enjoyable vehicle to do just that, enticing us all to examine how we are living and caring for what is important. Another great scene was when the lamb was born; here again it was interesting because Kingsolver had done her research. Additionally, I loved Dellarobia's son Preston, who reminds me of many homeschooling kids I know. Nurturing them right is the best hope we have. It is also fascinating to see how we are changed in the best ways by those outside our comfort zone.
In anticipation of this book I read the following two interviews with the author: you can read them here and here. I love her enthusiasm for the work of writing, which she does so breathtakingly well. I also agree with this statement of hers in the second interview, "I think that when people read fiction, they're really reading for wisdom. I am. That's what most of us really love. If we read a novel that rocks our world, it's because there's something in it that we didn't know already. Not just information but really wisdom—sort of what to do with our information." She's delivering on that in spades.
I recommend Flight Behavior…you'll be glad you read it!