Recipe: Linda's Irish Soda Bread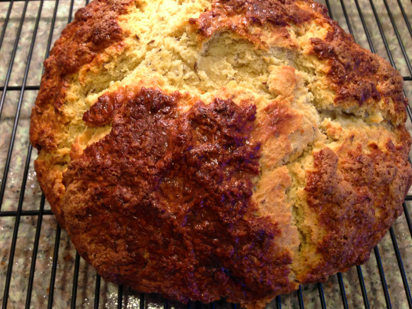 Happy St. Patrick's day! I was fortunate to have Linda's soda bread this weekend and it was the best I've ever tasted –nothing like the heavy versions I have made and given up on! Give this delicious version a try. It is light, with a moist interior and crunchy exterior…
4 cups all purpose flour
1/4 cup + 1 teaspoon sugar
1 Tablespoon baking powder
1 teaspoon salt
1 1/2 tablespoons caraway seeds
1 stick organic butter + 2 Tablespoons melted butter
1 1/3 cups buttermilk
2 eggs + 1 egg yolk
3/4 teaspoon baking soda
1/4 cup Greek style yogurt (or you could use sour cream)
1 1/2 cups raisins (Linda didn't use them but I think I might)
1 teaspoon milk
Preheat your oven to 375˚F.
In a large mixing bowl, whisk together flour, 1/4 cup sugar, baking powder, salt, and caraway seeds.
In a separate bowl, mix together buttermilk, 2 eggs, baking soda and yogurt.
Cut the stick of butter into small pieces and add to the flour mixture. Use a pastry cutter or two knives to blend the butter until the mixture is coarse.
Add wet ingredients to dry and gently stir. Fold in raisins.
Gently knead the dough within the mixing bowl until all the flour is incorporated.
Brush a pie plate with melted butter and add the ball of dough.
Whisk together the egg yolk and milk.
Use your fingers to make dimples on top of the dough, and brush the top of the dough with the egg and milk glaze.
Finally, sprinkle the top of the bread with one teaspoon of sugar.
Place the dish on the middle rack of your oven and bake for about an hour, until the top is golden brown.
Allow the soda bread to completely cool before cutting.
Try with fabulous Irish butter (see photo below)… Yum!