Fruity Yellow Tomato Salsa (Recipe)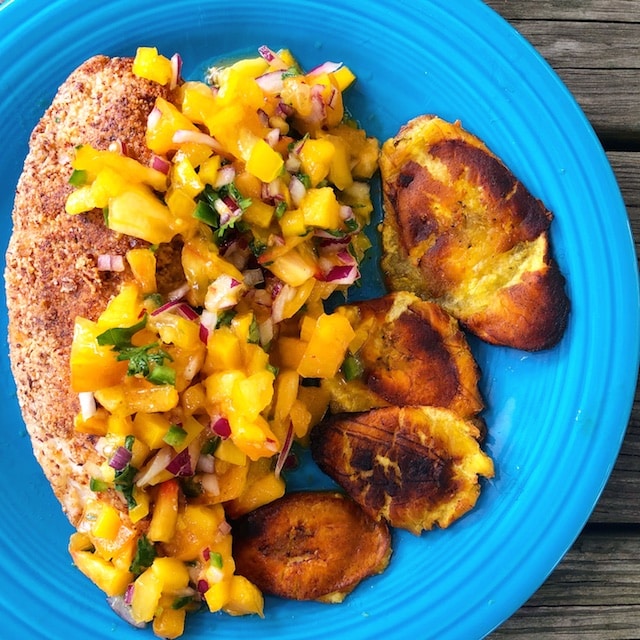 Wondering what to do with all those yellow tomatoes (see first photo below)? This is an especially excellent use for them. It will take you a while to chop it all, so settle in with a podcast or a friend to help you; you'll be so glad you did. It is so wonderfully delicious!
This recipe is easy to adjust for more or less spice, and you could trade out fruit in it, although this mixture as is, is fabulous. Since the size of yellow tomatoes varies greatly, I've shared the quantity in cups. For me, two cups amounted to two big ones and two smaller ones, as shown in the second photo below.
Try it as a fabulous condiment over protein (shown above), as a vegetarian or vegan side dish, or eat it with tortilla chips.
Fruity Yellow Tomato Salsa Recipe
2 cups diced fresh yellow tomatoes
1 yellow bell pepper, diced
1 fresh mango, pit and skin removed, diced
1 peach, pit and skin removed, diced
1 red onion, skin removed and diced
2 jalapeno peppers, de-seeded and diced
2 hot peppers (or more or less as desired), de-seeded and diced
2 tablespoons fresh basil, minced
2 tablespoons fresh cilantro, minced
2 tablespoons fresh lime juice
1/2 teaspoon salt
Combine all of the ingredients. Mix until incorporated, and enjoy!