Recipe: Zucchini Raisin Muffins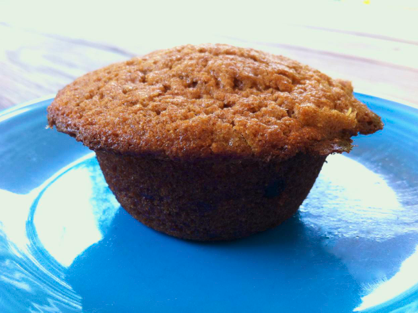 We've had a lot of zucchinis from this season so I've had lots of chances to figure out how we like them best.  After trying many recipes and tweaking this one, I've finally arrived at a favorite, just when I have only one left in my refrigerator.  We'll be buying zucchinis this winter to keep these muffins coming!  These are both delicious AND easy to make!
Zucchini Raisin Muffins
2 large eggs
1/2 cup melted butter
1/2 cup honey
1 teaspoon vanilla extract
1 cup sprouted spelt flour (or whole wheat flour)
1/4 cup toasted wheat germ
1 teaspoon cinnamon
1/2 teaspoon baking powder
1/2 teaspoon baking soda
1/2 teaspoon salt
1 cup shredded zucchini, with water squeezed out
1/2 cup raisins
Preheat oven to 350˚F, and butter a 12 cup muffin pan.
In a small bowl, whisk together the eggs, butter, honey and vanilla.
In a large bowl, combine the flour, wheat germ, cinnamon, baking powder, baking soda, and salt. 
Stir in the wet mixture until just combined. Fold in zucchini and raisins.
Pour the batter into the muffin cups. Bake for 25 minutes, or until a toothpick inserted in the center of a muffin comes out clean. 
Remove from the muffin tin and cool on a wire rack.
Enjoy!!