Falafel with Tzatziki (Recipe)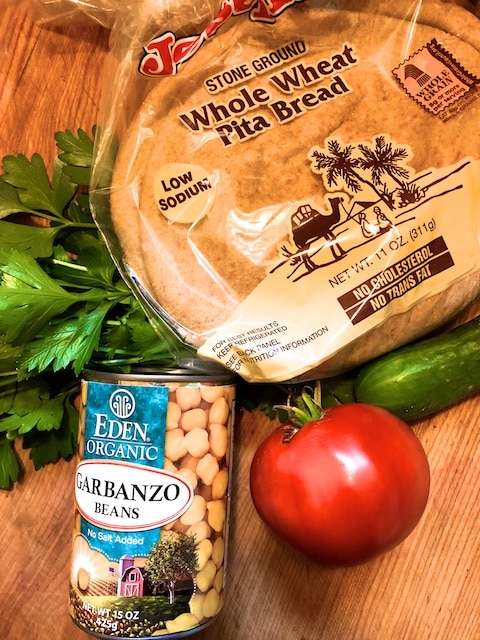 Recently I've realized I've never put this vegetarian classic on the blog. These are easy to make. Falafel sandwiches are a satisfying meatless meal that is basically a tzatziki delivery system.
Tzatziki is a traditional Greek garlicky yogurt sauce with cucumber. It is delicious. I usually make it at this time of year when the cucumbers are coming fast off the vine.
Make your sauce first, and have your pita halves, lettuce, diced tomato, and sliced cucumber ready for your sandwiches. It is best to eat your falafels hot, and they come together quickly, so you'll need to be ready.
This recipe makes eight falafel for four sandwiches. With just the two of us, we fry up four, each having a 1/2 pita sandwich with two falafel in it, and leave the rest of the falafel paste in the fridge, with the rest of the tzatziki, to make another quick meal a second time. This works great.
Tzatziki Sauce Recipe
4 cloves of crushed garlic
sea salt and freshly ground black pepper
2 teaspoons olive oil
1 teaspoon wine vinegar
8 ounces plain goat or sheep's milk yogurt, Greek yogurt, or Skyr
1/2 cucumber, coarsely grated
Mix the crushed garlic with the salt and pepper. Add the oil and vinegar and mix well. Place the yogurt in a mixing bowl and add the oil and vinegar mixture in stages, stirring as you do. Then add the grated cucumber and mix again. Chill while you make the falafel.
Falafel Recipe
1 can chick peas (garbanzo beans), drained
4 cloves garlic
1 shallot
a handful of parsley
1 teaspoon ground cumin
1 teaspoon coriander
3 Tablespoons all-purpose flour
sea salt and freshly ground pepper
Avocado oil for cooking
In a food processor combine all ingredients except the cooking oil. Pulse until mixture is a paste.
Form into small patties. We like to make them flat because you need less oil to cook them in and that way they fit in a pita well.
In a skillet (we use cast iron) heat a 1/4 inch of the avocado oil until a drop of water added to it sizzles.
Fry the falafels until golden brown. We like them crispy on the outside– they'll still be soft on the inside and that contrast is nice, and you don't want them too mushy. Transfer them to a paper towel lined plate and season immediately with salt. That step is essential, so don't forget it!
We serve the falafels in a 1/2 large pita, lined on both insides with tzatziki sauce, along with lettuce, tomatoes, and cucumbers.
Enjoy!