Recipe: James' Butterscotch Brownies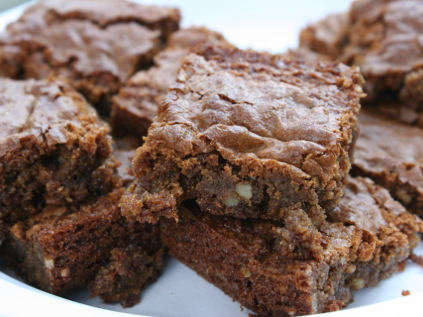 This my husband's go-to recipe when we need to bring something yummy and quick (like to the picnic before the Shakespeare play last Tuesday, or to today's pool party.)  For decades, people have exclaimed over these moist miracles and they quickly disappear.

The Sprouted Spelt Flour is the secret of their wholesome goodness (see photo below) making them especially delicious and nutritious, as well as also edible for our gluten free friends.  This recipe is so easy that once you've located the sprouted flour (our local grocery carries it at our request) you are home free. (They can be made with other cheaper, less healthy flour but we all agree that they aren't as fabulous that way.)
Ironically, these are called butterscotch brownies, but there is no butterscotch in them. However, there is enough brown sugar present to satisfy even the most decadent sweet tooth. Often we are asked for this recipe, so (drumroll), here it is in all it's glorious simplicity:
Butterscotch Brownie Recipe
1 stick butter (8 TBSP)
2 cups dark brown sugar
2 tsp vanilla
3 eggs
1 cup sprouted spelt flour
2 tsp baking powder
1 tsp salt
1 cup finely chopped pecans
Preheat oven to 350º F
Melt butter in medium size pan or in microwave bowl.  Add brown sugar and mix well.  Return to heat or microwave for two minutes.  Cool slightly and add vanilla and eggs. Mix well.   Add the flour, baking powder, and salt and combine until just combined.  Stir in nuts.
Pour batter into a greased 9" x 13" baking dish. Bake for 25 minutes or until done.  Allow to cool in the pan, then cut into bars.
Enjoy!