My Solo Show: The Fusion of Art and Spirituality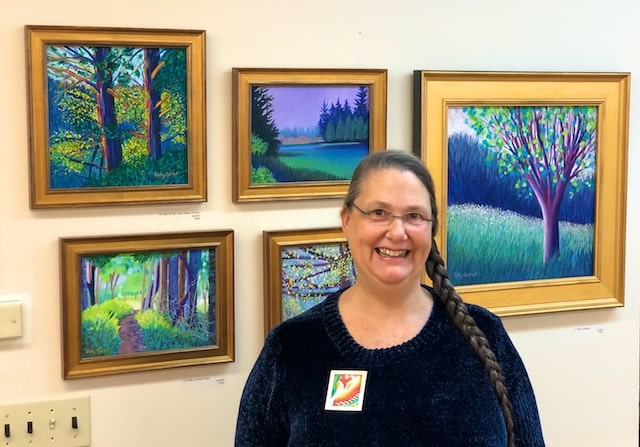 My new one woman show, titled Abstraction: the Fusion of Art and Spirituality, has opened! There are 89 paintings in the show, held at the Ridgebury Congregational church's Shield's Hall, in Ridgefield, Connecticut. It's run has already been extended from what you'll see on the invitation below; now it will be up until Easter. There is plenty of time for you to make an appointment with me to see the show in person and to come to my artist talk scheduled for Tuesday evening February 18 at 7pm (put that on your calendar right now)!
Below you can see some glimpses of the two story show. Although there are many works not shown, it gives you a sense of the whole range of abstraction here from impressionism to non-objective art, with a special emphasis on abstract conceptualism. Because of the spiritual theme, most works included in the show are steeped with metaphor. I think paying attention to the titles heightens the experience of the show.
For the reception, the church provided the drinks and the fruit, nuts, veggie and cheese platters, and we made the homemade sweets. We made these easy and reliably delicious standbys that can be found on the blog: Apricot Squares, Butterscotch Brownies, Vegan/Gluten Free Oatmeal Raisin Cookies, and Apple Cake. Two friends also brought goodies; one is the amazing platter shown below, and the other were double chocolate brownies.
This show was the result of the three people shown first below. In the middle, I poured myself out in the art, and it was like my heart itself is hanging on the walls. Deborah, your fellow blog reader, is the minister of the hosting church and hatched the whole idea; she has been a huge delight to work with on this project, and even bought the first painting sold. (Thank you too to Henrietta, also a blog reader, for buying the other one that sold during the opening.) And on my right, my husband James has been supportive beyond what you can imagine. He framed all of these 89 works, transported them, hung them where I told him to (which alone took two and a half days), and helped me make labels for them. He made all the above mentioned goodies for the reception. He has put up with his house being a disaster and meals being sub-par for about two weeks. He was working on this show even when I was working on other things, for I kept up with my practice during this entire process. I got accused last week of being Tigger because I was so excited I was bouncing. Thank you Deborah and James for giving me this show! To say I am grateful doesn't sound strong enough.
And thank you to all of you that came out the day after a snowstorm to partake of this blessing of thoughtful jubilation that I prepared for you. In the photos below you can see some of the folks attending, representing different aspects of my community, including church people, fellow clergy, homeschooling friends, book group pals, and art peeps. I even met a blog reader I didn't know that came from some distance to see the show; it was great to meet you Gretchen! (There are so many of you I have never met and it is a special treat for me to be able to do so!) I also had a friend (and fellow blog reader too) come unexpectedly, driving many hours out of her way from Ithaca to Massachusetts to see the show; she's sleeping in our guest room as I write this. I really appreciate all who came and will come to see the show. It was a huge effort and you make it worth it.
And if you didn't get there yesterday, no worries, you can make an appointment with me to see it at your convenience. I'd be very happy to show it to you, and maybe we can work in lunch too. If even that isn't possible, you can still participate by viewing (and buying) my art online. Click here for my art site; soon I'll have added all the newest work that hasn't even had a chance to be posted.
The show looks amazing. I love this new work and want to move it along to their "forever homes" because I have so many other painting ideas in the pipeline, and don't want them just stacking up in storage! So help me with this. Let people know about this show, or buy some yourself. This is just the start– it'll be up for three months.