Pastor Karen's Send-off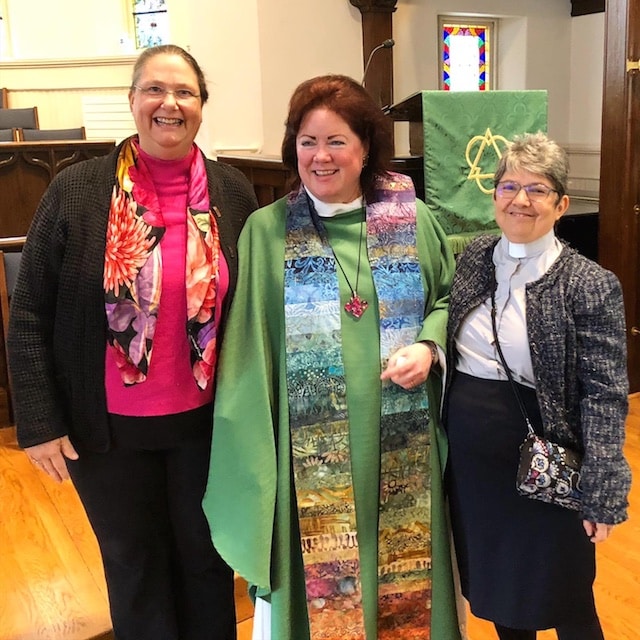 As long time blog readers know (for example here in 2010) I have participated as a Christian Science Practitioner representing our local branch church on the Ridgefield Clergy Association for well over two decades. This has given me the opportunity to support other interfaith ministries, to normalize my own faith tradition, and to be more involved in the community. Currently, for example, I have a one woman show up in pastor Deborah's church in town, which rose directly out from this commitment of mine to ecumenicism.
While sometimes work on this group has been frustrating and uphill, lately the balance has shifted from me as the only woman, to women being more than 50% of the group. That change is having a brilliant and heartwarming effect. I've actually made some friends there after all this time, instead of remaining with everyone on the level of respected colleagues.
Pastor Karen is one of them, and she's one of your fellow blog readers too. She had grandparents that took her as a child to the Christian Science Sunday School, so she quotes Mary Baker Eddy to her flock, as well as was predisposed to greet me warmly, understanding immediately what wonderful goodness I represent.
She included me in book groups at her church, and introduced me to church members of hers that became friends. I equip her with as many Science and Heath with Keys to the Scriptures as she wants to give away. She welcomed both my husband and me as speakers and educators in the adult ministries in her church (you can click here for an example of what I said in one of them). She has also shown up at our Wednesday evening testimony meetings, and our Thanksgiving services, even given a testimony or two.
This is our interfaith world at its best. We can support each other's ministries, working collectively for a better world. Please know that this is not only possible, but that it is happening. Church, prayer, and God are not bound by categories or walls, but shared collectively in human hearts.
So last Sunday, I attended a goodbye service for Karen as she moves onward to her next adventure and call. Our town will miss her. Indeed several hundred people came out to express their thanks and appreciation for what she has done for them.
James and I were honored to be seated at her small head table for the crowded brunch after the service. The whole event was like a mid career retirement bash for nine years' service, the likes which of most people will never get after a lifetime of hard work. (Be clear, Karen deserved every bit of this and more, it just made me sensitive to all those that also earn such overwhelming commemoration but never get it; we just have to rejoice when merited accolades do come, instead of wishing for more of them in more places!)
Fortunately for me, Karen is still in my life, as a friend and blog reader going forward. I expect to see her and still have a chance to support her good work going forward. She may be leaving town and our clergy association, but I hope geographically she's not going far.
Meanwhile, "Well done good and faithful servant." You are loved.