My Ecumenical Friends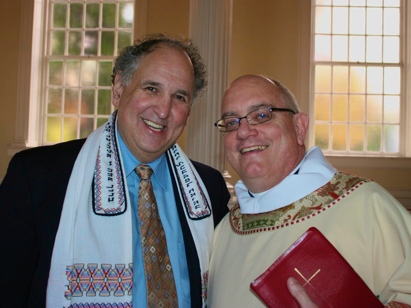 I have to say I am blessed with some wonderful ecumenical friends. I've had the privilege of representing my church on our town's clergy association for many years now, even serving two years as president. All eighteen of these people are excellent.
I love this photo which I took yesterday of our local Rabbi and Episcopal priest, at a service the three of us shared. The image catches the spirit of respect and camaraderie we feel for one another as we support each other in our individual walks, which are really more similar than they are different. We breathe. We pray. We help people. We are governed by Love. The bridges we are building together are a microcosm of what can and is happening in the world. Genuine affection is the answer!