Just Back from a Week Long Vacation in Maine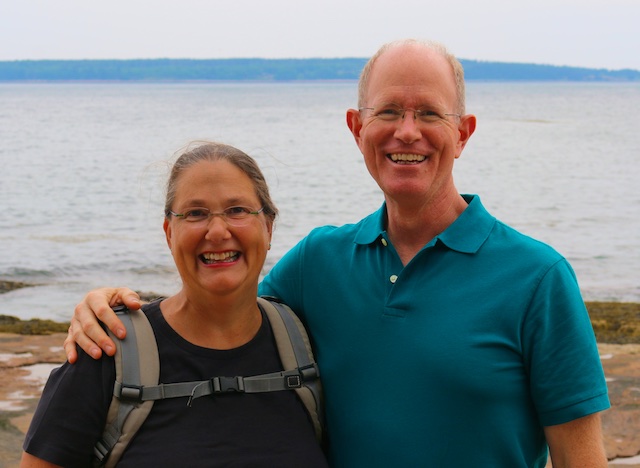 We are just now back from a week long (surprise) vacation to Maine. At the last minute a friend and blog reader offered us a week in their family cabin on Mount Desert Island for free (thank you so much!). We jumped at the chance and had a terrific time. This is only the fourth time my husband and I have gotten away alone together in 26 years of marriage!
We biked the carriage roads of Acadia National Park (an 18 mile loop that included popovers at Jordan pond), and biked the 8 mile loop on the Schoodic Peninsula as well. We hiked to the top of Beech Mountain (bottom photo) for great views. We saw friends in the Ellsworth Christian Science church at two Sunday morning services and a Wednesday evening meeting, and were able to visit three different art shows where people I know were showing their work. We painted on the beach at Echo Lake, and went to an amazing steel drum concert with 40 steel drums. We also went to the Bass Harbor Lighthouse, and hiked numerous other short trails.
Each morning we woke very early to the sunrise over the bay shining into our eyes, and each evening we chased a sunset to get the best vantage point, relishing the display until the full moonrise. With all of that we had wonderful food and good weather…
It will take me a while to catch you up on all the gorgeous photos I took and the cool art we saw, so you can expect a virtual trip to Maine coming in installments over the next while on this blog.