Recent Artist Journal Pages (now with Quotes)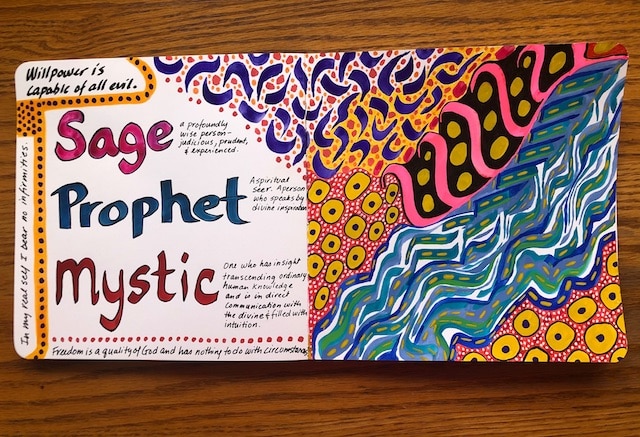 Sometimes as an artist, you want your hands in color and ideas, without any pressure from yourself to create something worthy. The fact that an artist journal is usually done in a bound book, and often on opposing pages, makes selling not an option, and this can really be freeing. While I believe all art is for yourself as much as it is for the viewer, working in an artist journal is even more so.
I try out ideas in my art journal, sometimes just doodling. I have an ongoing vertical formatted one that only has art in it, but recently I've gotten a square book where I'm allowing myself both color and words. I read a lot of tidbits that are worth rereading and pondering more, which do not make their way onto the blog, and I wanted a place to put them and access them. And while those notes are for me, I might as well share them with you as well.
In this post you can see my pages since the new year, nothing fabulous, but all part of my processing that goes into work I do care more about. I used to post my artist journals all the time on this blog (see here) and I'm going to get back to doing that on occasion. All this sequestering in place we've been doing lately allows for this kind of introspection.
One thing I notice about posting these pages already is that when feeling contemplative I gravitate to dots! There is something very reassuring and centering about the repetitive motion required to make dots that my psyche enjoys. Both the art journal, and for me the dots, are therapeutic.
I use these Stillman and Birn Zeta Series art journals, which have cold-pressed heavy weight paper that will take whatever you want to do to it without wrinkling or bleed through. A good book to play in is a luxury I would not want to be without. I encourage you to give it a try. If you do, and feel like sharing, I'd love to see some of your pages!