Recipe: Virginia's Oatmeal Raisin Cookies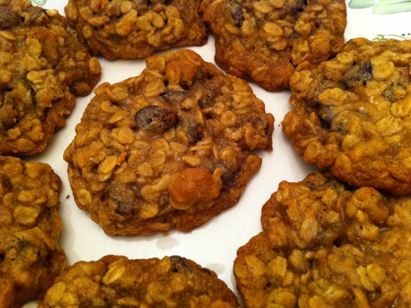 Here are the oatmeal raisin cookies my daughter makes…
Easy Oatmeal Raisin Cookie Recipe
1 cup (1/2 pound or 2 sticks) unsalted butter, softened
1 cup brown sugar, packed
3/4 cup granulated sugar
1 1/2 cups all-purpose flour
1 teaspoon salt
1 teaspoon baking soda
1/2 teaspoon freshly grated nutmeg
1 teaspoon cinnamon
2 large eggs, well beaten
1 Tbsp vanilla
3 cups rolled oats (Do NOT use instant)
1 1/2 cups raisins
1/2 cup chopped walnuts (optional)
Pre-heat oven to 350˚F. Grease two large cookie sheets.
In a large mixing bowl, beat butter until creamy. Add sugars; beat until fluffy, about 3 minutes. Beat in eggs. Add vanilla.
Mix flour, salt, baking soda, cinnamon, and nutmeg together in medium bowl. Stir dry ingredients into butter-sugar mixture. Stir in raisins and nuts. Stir in oats.
Spoon out dough by large tablespoonfuls onto prepared cookie sheets, leaving at least 2 inches between each cookie.
Bake until cookie edges turn golden brown, 10-12 minutes. Cool 1 minute on cookie sheets. Then carefully remove them, using a metal spatula, to a wire rack. Cool completely. They will be quite soft until completely cooled. Store tightly covered.
Makes about 2 dozen cookies. Enjoy!