Recipe: Spinach Quiche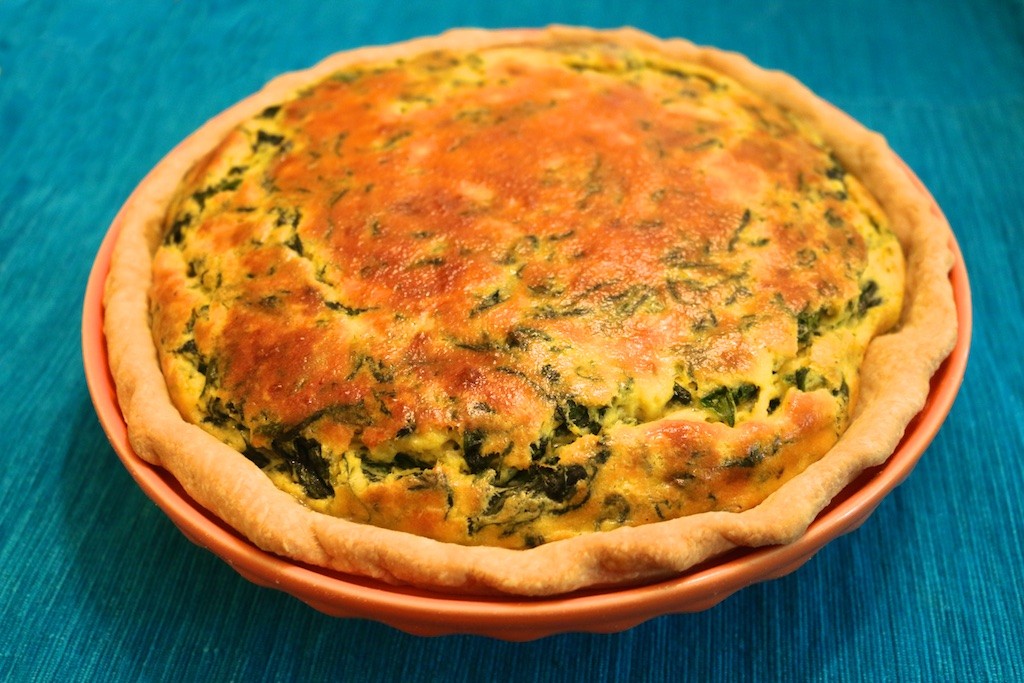 This is my husband's classic spinach quiche recipe that he has made ever since I've known him. It has multiple roots in his life including a year abroad in France. The crust is butter based and good, and the quiche rises well and is delicious. It is our oldest daughter's favorite homemade dish; as a child and young adult she was so fond of it she'd ask for it for Thanksgiving dinner, and now as an adult she makes it for herself with good results.
This quiche is our most requested dish to bring to potlucks, so we seem to make it a lot this time of year when there are so many occasions to get together. Besides gougere and tarte tatin, which are both out-of-this-world, this quiche is one of the few things my husband still cooks. Even though I now do most of the cooking, these French recipes are his specialty, and for good reason.
Since he made this quiche for friends last weekend and it is on the menu to share again this upcoming weekend for a different crowd, we realized it has never been on my blog. It is always well received and is typically the first thing gone on a potluck table. So because it is so outstanding, and he makes it look easy, I hit him up for his recipe, which you will find below.
Last weekend, he made it with fresh spinach from his garden, but he shares the recipe below using frozen, since it is just as good that way, and more accessible to everyone.
Recipe for Spinach Quiche
Crust:
1 cup flour
¼ tsp salt
1/3 cup cold butter, cut into chunks
1/4 cup ice water
Filling:
2 ½ TBSP butter
3 TBSP flour
1 ¾ cup milk
1 cup grated muenster cheese
salt and pepper
1/2 tsp grated nutmeg
1 10oz. package chopped, frozen spinach (thawed and excess water squeezed out)
4 eggs
Preheat oven to 350˚F
For the crust: (or use your favorite recipe or buy one at the store.)
Mix the flour and salt together then cut in the butter with a pastry blender or use a food processor until the butter remains only as tiny little lumps the size of a small pea. This will take just a few pulses in a food processor.
Add the water and stir until combined. Form into a ball with flour covered hands. Roll out into a circle about 11"-12" wide. Place in a 9" pie plate and set aside.
Grate the cheese and nutmeg, and measure out the milk ahead of time.
In a heavy-bottomed saucepan over medium high heat, melt the butter then stir in the flour. Let it bubble for a minute or so until the butter just starts to brown. Add the milk and whisk briskly to dissolve any flour lumps. After it thickens, continue to cook for a minute or two stirring all the time.
Remove from the stove and add the grated cheese, salt, pepper and nutmeg and mix completely. Add the chopped spinach and stir until it is evenly distributed. Then add the eggs and mix until completely blended.
Pour into the pie shell. Bake for 30-40 minutes until golden brown. It will puff up a little. Remove from the oven and let rest for at least 10 minutes before serving.
Enjoy!