Recipe: Scallops on Flash Roasted Tomatoes and Leeks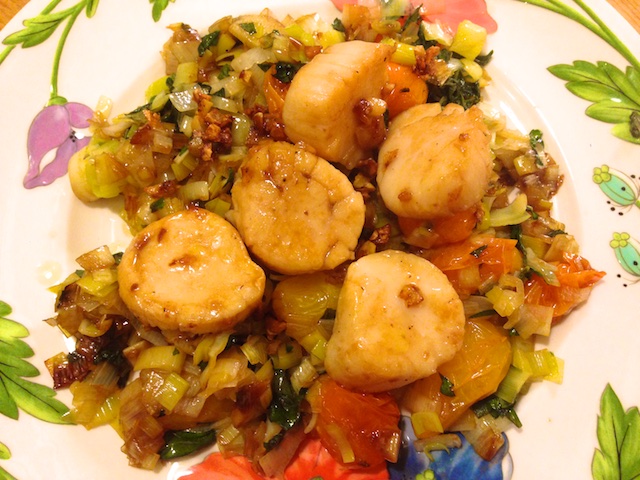 My husband raved about this. Maybe it was the butter talking or the novelty of serving a different type of protein, but I agree, it was a complete success. Since I made this recipe up on a wing and a prayer, I needed to get it written down here so I can remember it! It is way yummier than it looks like in the poorly lit photo above. 
This recipe serves two, so multiply it for more. It all comes together very quickly!
I used clarified butter–or ghee– for this, which does not burn. If you are using regular butter, use half olive oil, so you avoid that problem.
We used the large sea scallops for this, but I suppose the smaller bay scallops would cook for a similar amount of time; just know that when they are opaque they are done. You don't want to overcook them.
Scallops on Flash Roasted Tomatoes and Leeks
10 Sea Scallops, foot removed and patted dry with paper towels
6 leeks, white parts only, cut in quarters lengthwise, and then slices as shown below
2 cups cherry or grape tomatoes (the ones I used here were orange)
3 Tablespoons clarified butter or ghee
1/2 teaspoon of salt
1 1/2 Tablespoon olive oil
6 cloves of garlic, minced
1 1/2 Tablespoon balsamic vinegar
1 large handful of fresh basil, chopped
Preheat the oven to 450ºF.
Melt 1 tablespoon of butter over medium heat and sauté the leeks until wilted and soft and just starting to brown. Set aside.
Place the tomatoes whole in a pyrex roasting pan with the olive oil. Roll them around in the oil and place them in the oven for ten minutes. Add the leeks, balsamic vinegar, and basil to the tomatoes, and stir until well mixed, being careful not to break or burst the tomatoes.  Return to the oven until the scallops are almost done.
Melt two tablespoons of butter over medium heat and add the salt and garlic. Sauté for about a minute, and then add the scallops, cooking them for 5-7 minutes, stirring continuously.
Remove the vegetables from the oven and divide onto plates. Cut a scallop to insure proper doneness: opaque throughout but still moist and soft (not at all tough nor jellylike).  Place scallops on top of the vegetables and serve immediately.
Enjoy!