Book Review: Delancey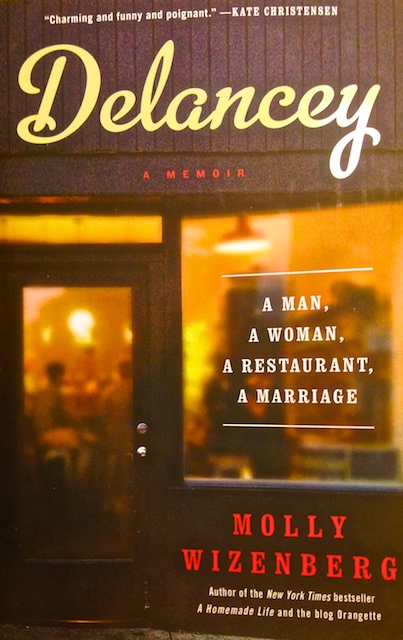 I loved Molly's first book A Homemade Life (I gave it a rave 5 stars) and have been a reader of her top ranked food blog, Orangette, for a long time now. So it was natural for one of my sisters to give me Molly's more recent book titled Delancey for my birthday, straight off my Amazon wish list. I'm so glad she did.
I enjoy memoirs, and this one rings in as authentic as her first. It was great to hear more about how her story continues. The first book ends with her getting married, and this book is about that marriage surviving the opening of a successful restaurant. This one ends with her becoming a parent, and I hope there is another book following this one.
I'm only going to give this book 4 stars, however, because the recipes in it were ones I am less likely to try. I can see trying the sautéed dates with olive oil and sea salt, or Kate's brownies, the citrus and feta salad, or Toni's Apple Crisp, just not the slow roasted pork shoulder, the coconut rice pudding, the ricotta, the meatloaf, or the multiple recipes with alcohol as main ingredients. But mostly, I'm left wanting to go to their restaurant (Delancey) in Seattle, but unfortunately have no plans to be there anytime soon. I want to try one of her husband's brick oven pizzas, which sound extraordinary.
If you want to read a real life story of the struggle behind realizing a dream, you might enjoy this book.