My New Easter Poem: Fruitful Bounty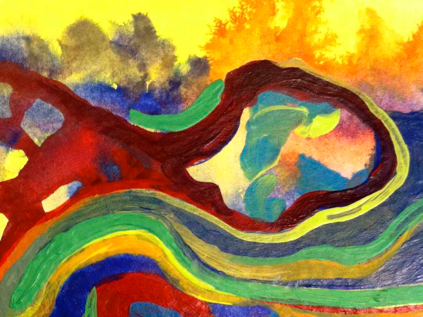 Fruitful Bounty
Jesus as the apple of God's eye
dripping red from a leafless, two branched tree
drops, full-orbed and ripe,
his faithfulness harvested to a quiet tomb
only to be roused by serene omnipotence, bursting
with stunning strength: the immense stone is rolled away
and a new dispensation dawns.
Flourishing forth is a fresh promise
we newborn Adams and Eves
are equal, guiltless peers
who get to choose anew
this first fruit of them that slept.
Oh we are awake now as never before!
with an incredible realization –
suddenly conscious that we live forever.
Fearlessly we tread pesky snakes underfoot
as we dance, rejoicing, in the garden
hand in hand, unashamed, confident and free
aware now that good triumphs over even the worst atrocities.
Easy at last to say no thank you
to those dastardly mixed results of the tree of good and evil
(those insinuating serpents are unbelievable)
we know too well that blame and curse are not at all beautiful,
but to be avoided, wished on no one.
We're finally more discerning and wise enough
to pick only good
it's everywhere all around
and any suggestion of anything else we shake off like a bad dream.
Take, eat, for this is his body, given for you
wake up, break the fast, embrace the feast,
this is incredible nourishment for your soul.
Oh delicious paradise, come again
let's do it right this time,
and not spoil this opportunity
or soil it with impossible arrogance.
We've come such a long way to full circle again
as God's precious children
no longer forbidden, but fed, forgiven
innocent, protected, unselfconscious,
yielding to the sweet flavor of being proclaimed "very good!"
Never to die, but perpetually finding
obedience to peace and love
exciting enough for all eternity.
by Polly Castor
3/31/13