Book Review: Death Comes to Pemberley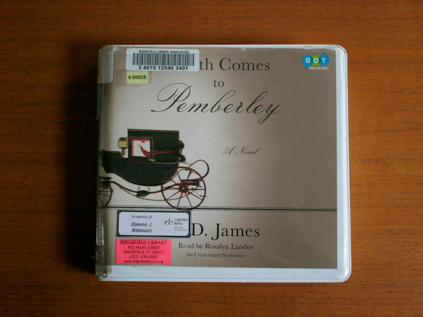 Well, I don't read many mysteries nor much fan fiction, but a murder mystery by established writer P.D. James who wants to take on the characters in Pride and Prejudice? That combination is unexpected and beguiling enough to prompt me to give it a try. As it turns out, this book was a nice effort that missed the mark at bit. Reviewing it on April Fool's day somehow feels fitting.
And while the author does attempt to emulate Jane Austin's writing style, she convincingly captures the cadence without the subtle wit. There was too much synopsis of Pride and Prejudice at the beginning, and too many details that did not accurately jive with those declared in the original. And it turns out that a Jane Austin type narrative is simply too plodding for a who-done-it. Most importantly, I would have liked Elizabeth and Darcy to have had more interaction, maybe even actually be involved in solving the murder?
What redeemed this book for me was that the audio was read so well by Rosalyn Landor that I listened along happily; I look forward to listening to her again in the future. I give this book three stars.