Tomatillo Soup with Spinach and Tilapia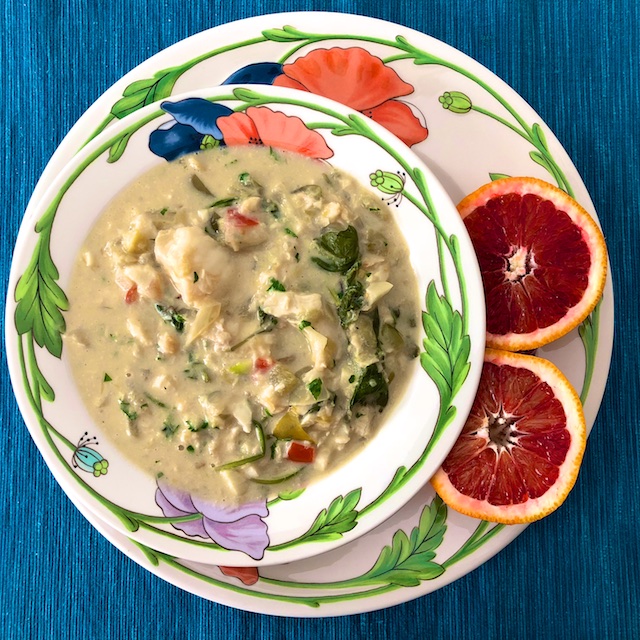 I'd like to encourage you to feel free to diverge from a recipe and head fearlessly into unknown territory. That's how some of the best stuff happens. At some point, food fell in the fire, and people realized it was good cooked!
Anyway, this recipe is one I stumbled into that way, and I'm so glad I did. First, I saw some tomatillos at the store, and bought some remembering my Tomatillo Soup recipe here on the blog. Then, when I went to make it, I didn't have all the ingredients, so started imagining some other things to do with them, like fish roasted in salsa verde with the tomatillos cut up in it.
Then I decided to just replace some of the broth I was missing in the soup with the salsa verde, and replace the jalopino's in that recipe that I didn't have, with some hot peppers from our garden, that were cut up and frozen last fall. So then I decided to compensate by not putting in the hot sauce, but while I was at it, I had green chilis on hand, so I threw those in since they are mild.
The former tomatillo soup recipe was pureed, so I started being concerned that now with the red hot peppers, it would blend into a weird unappetizing color, so I struck on the idea of adding spinach to balance it out color-wise. Once I did that, it was so lovely that I no longer wanted to blend it, so I decided not to, and simply added in the fish.
The previous recipe had sour cream, which I'm not eating right now, but I had this awesome homemade cashew creme that I put in instead, and oh my gosh, all together the result was fabulous! It is a tad spicy, but the creaminess balances it out just right from being too spicy. The outcome is flavorful comfort food at its best.
So this is an example of how I diverge from a recipe, even one of my own. A recipe can be considered just a spring board for creative exploration. If you are new to cooking, follow recipes until you are comfortable, or read many similar recipes for something, and then decide for yourself how you are going to do it.
So here is the wonderful result that I hope to be able to duplicate…
Tomatillo Soup Recipe with Spinach and Tilapia
2 Tablespoons of olive oil
3 tilapia loins (NOT from Asia)
3 medium onions, chopped
1 head of garlic cloves, peeled and chopped
5 tomatillos, chopped
3 tablespoons of medium hot red chili peppers, minced
2 cans green chili peppers
1 jar salsa verde (I use Trader Joes)
3 cups water or vegetable broth
5 oz baby spinach
1/2 cup cashew cream
1 teaspoon (or more to taste) of sea salt
1 bunch of fresh cilantro leaves, minced
In a tablespoon of olive oil, cook the tilapia until flaky and falling apart. Set aside.
In another tablespoon of olive oil, saute the onions on medium high, until soft. Add the garlic, and stir for a minute, until fragrant. Stir in the tomatillos and the red and green chili peppers, and cook for a couple minutes.
Add the salsa verde and water/broth. Deglaze the pan, and bring to a boil. Add the baby spinach, and cook until wilted. Add in the cooked tilapia and cashew cream and cook until hot. Add salt to taste and stir in the cilantro just before serving.
Wow! Enjoy!